So many fabulous celebrity trends, fashion moments and moments in general happened this year. And then there were the not so fabulous things that happened in the land of Hollywood. Here is my personal list of celebrity obsessions. Both the good and the not so good. Hint, John Travolta and his hairy chin nub; you know where I'm going with this one.
Let's start off strong with my personal All Time Favorite Red Carpet Look of 2014. I give to you…Kate Hudson in Atelier Versace at the 87th Academy Awards. In my opinion, she absolutely killed it.  This dress screams old Hollywood, sexy and feminine. Shoulder pads, low cleavage (front AND back) and a cape? Give it to me now! Well done Kate, cannot wait to see what the 88th Academy Awards serve up. I am really hoping my girl Jennifer Lawrence loses the oh so safe, strapless Dior and goes for something more fierce this year.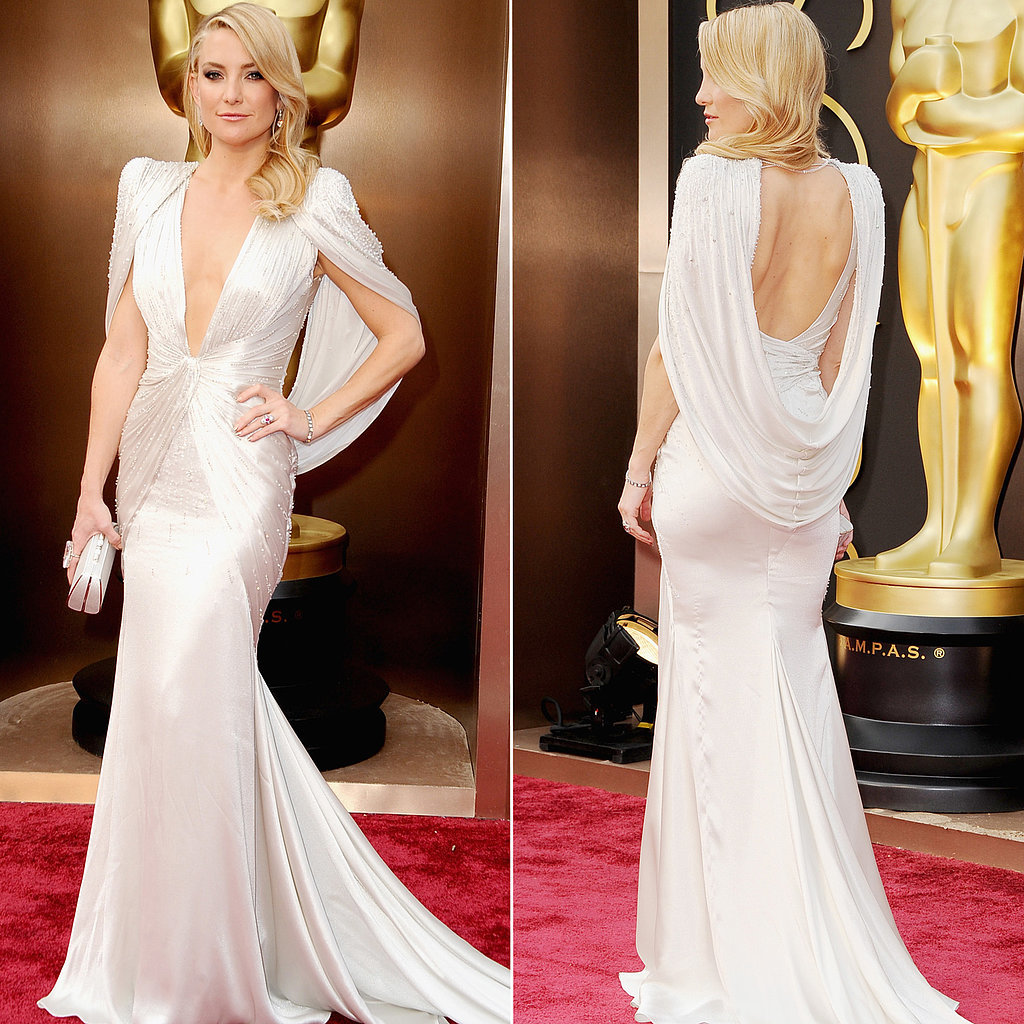 Runner up for Best Red Carpet is Lilly Collins in Ellie Saab. The funky, multi colored ombre and dark lip just does me in. Not to mention the perfection of the flow of the gown.  Gothic chic.
Next up we have The Best Dressed Celebrity Bride. I know some may be disappointed I did not pick Kim K and although I worshiped her veil, she was lacking something I need a lot of..and that would be sparkle and pizazz! I would like to present to you my winner for this category…the beautiful and OH MY GOD your dress, Piper Perabo! Um, HELLO! Her dress was designed by Michael Khors and it is simply unstoppable. If I had the dough, this would have hands down been my wedding dress. And let's discuss her non-traditional mustard yellow veil…perfection. I'm not so sure what's going on with her new husband's hobo outfit and his upside down boutonniere, but whatever, she stole the show! 
Every year we are flooded with celebrity trends. Some are incredibly innovative and unique and some suck. However, there was one trend that absolutely took me by storm. For 2014's Best Celebrity Trend…the winner is so simple I could smack myself. Two words: lavender hair. If I was planning on going pixie again anytime soon, this would be my first step towards a short do. It's funky, playful, fairy like and is everything I want my hair to be one day. And it wasn't only the lavender that did me in, the gray and soft blues were also a favorite of mine. Nicole Ritchie rocked this look big time.
I love creeping on who wears what to the airport and while traveling. To look good and comfortable can be a difficult task. You don't want to over do it, but you also don't want to look like a little hillbilly either. There is a happy medium. Hands down, Kristin Cavallari dominates the award for Best Airport Attire. (Sorry Chicago Bears fans, don't hate.) She consistently looks chic and comfy without looking too pretentious. And she is also with me on my wear sunglasses indoors and outdoor rule and black legging flying only attire. Jeans on an airplane = double dosage of Xanax.
There were many preggo celebrity mamas in 2014 and one in particular spoiled that bump of hers with some seriously gorgeous maternity threads. The award for Best Dressed Celebrity Hot Mama To Be goes to Blake Lively. She is frigging rocking that baby bump like no other. So far, that is the best dressed baby bump to date.
Many good things happened in the Hollywood world this past year. But, there are two things that happened that still silently haunt my dreams. One comes in the form of a little, tiny, hairy nub. You guys! WHY!?!? Why did this happen? Everyone was so concerned that he fucked up that singer lady's name, but who cares about that! Why the hell did anyone not chloroform him and wax that shit off before the show started!? I just can't. Everything about that little piece of hair makes my butt hurt. I'm so glad to see that go and hopefully never, ever come back. RIP John's Chin Nub…be gone! I don't even have a name for this award. Just…The Please Never Again Award.
2014's Thing That Just Shouldn't Have Happened Award goes to Lena Dunham's Emmy costume. I call it a costume because it scares me a little. Here's the deal. Ok, wear that mess of a dress, Bjork wore a frigging swan to the Grammy's back in the day. The difference, hers had a little sparkle to the sleeves and she gave a playful smirk and pose. Wear this thing and pose this way Lena and seriously, I just can't. Throw your hand on your hip and toss your shoulder back. Rock this fucked up outfit and own it, damn it! 
Celeb gossip junkies, what's your favorite Hollywood fashion moment or trend? If it's Travolta's chin pubes, I'll surely pass out.xo