My favorite times of the year are as follows; Christmas, autumn in Chicago and….AWARD SEASON!!! And it is upon us people! I love everything about it…the movies, the red carpet, the speeches, the poses, the moment they announce each and every winner and most importantly, the dresses!!! And it's not only about the dresses, it's the hair, the jewelry, the shoes, makeup, you name it, it counts in my book.
This Sunday the Golden Globes will be gracing our television screens and I can barely control my excitement as I can't wait to see high fashion spewing all over the red carpet. In honor of this year's 72nd GG's, let's have a visit from the the Ghost of Golden Globes Past to see what the hell some of our female nominees wore way back when.
Let's begin with the best and worst dressed nominees of Golden Globes Past beginning with the best. Emma Stone smashed it in 2011. Everything about this GD look does me in. Her perfectly blonde hair and thick black eyeliner to her salmon colored, backless Calvin Klein, it's sexy, simple and refreshing! She was terrific in this year's Birdman, I'm hoping for a win!
Now let's take a short trip back in the time machine to last year's Golden Globes where this year's nominee for best supporting actress in A Most Violent Year, Jessica Chastain, wore this dress.
The sea foam color semi wins me over, yes, especially with her gorgeous hair color. However, let's examine the cut and fit of this dress, shall we? My sister Nicole has said many times, "no, Lauren, you cannot wear that skirt, it is sooooo ill-fitting"…um, where was Nini when Jessica put this thing on!?! I know underneath all that fabric she probably has perfectly perky boobies, but at first glance one would think her lady pillows are hanging down to her belly button. She won the red carpet in years past, but I must say, for a night she knew she was probably going to win, this was not the dress. Thankfully for her, she is stunning and can make anything this ugly look good.
Ever since Fear where Marky Mark went all bananas and made riding roller coasters creepy, I've been a fan of Reese Witherspoon. This year, she is nominated for her role in Wild, which I cannot wait to see. But what I can't wait to see more is what she will be wearing on that perfectly posed body of hers. What I love most about RW is how versatile she is with her hair and hues. Have a look, Reese knows what's up and is a hand to hip pro. Lena Dunham should take note.
Emily Blunt is up for her role in Into the Woods and although I don't think she'll win per Michelle's review of the film, she won it in the jewelry department at the Golden Globe Awards in 2013. I frigging LOVE these Lorraine Schwartz ruby stunners! I mean, talk about a statement earring. She could be butt ass naked and I'd still only notice these gems! Well done Emily.
Now. I am planning on lady-napping Helen Mirren to steal her secret to forever looking stunning. I mean seriously…look at this woman, she is beautiful! Ok, I won't kidnap her, but I may start rubbing Pond's Cold Cream all over my body to preserve my youth. Helen is up for her role in The Hundred-Foot Journey…I have a feeling she will look as classy and elegant as she always does.
TSPeeps, I would like to introduce you to a conspiracy theory I have recently unearthed. It is called, The Angelina Jolie Effect. Now hear me out. Over the past few years specific trends have hit the red carpet and remain a bit of a sleeper trend, that is of course, until Lady Angelina herself recreates said  trend and absolutely steals the frigging show and then is talked about for years to come. Exhibit A. Remember when Angelina wore these gorgeous earrings to the 2012 Oscars?

I was certain she introduced massive emerald earrings and a black dress to the world of fashion. Not so fast. These two GG nominees introduced this look a couple years before her. Angie just borrowed, then stole and then PERFECTED the look. Bam! The Angelina Jolie Effect strikes!

Now prepare yourselves for what you are about to see and read, perhaps have a seat. Do you remember this pose and look from 2012?
How could you forget?! It was the talk of the town for months and still has not been forgotten and never will be. Now…do you remember which nominee first struck this pose at the 2003 Golden Globes? Well, do you? This lady did!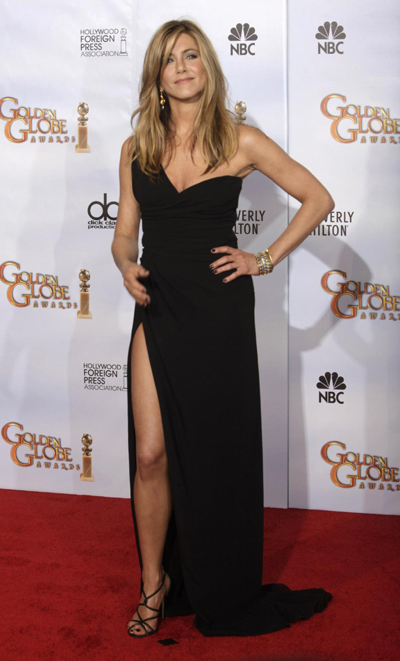 BAM! Angelina strikes again! And not only does she strike, she strikes on a super duper personal level. Like, "I have your husband and now I have your leg pose, be gone Rachel or whatever the hell your name is!". I wonder who's look she'll steal and conquer this year…….
Who are you most excited to see rock the red carpet at the Golden Globes??? Better yet, who do you think is going to win?! Happy Award Season TSPeeps!!! xo