This year's Golden Globes definitely brought out some interesting looks on the red carpet. Interesting in both a good way and also in a really, really bad way. We saw a lot of whites, creams and silvers. Pops of yellow and some vibrant red. But, there is a part of me that feels the red carpet was a bit underwhelming. I feel there was a void, like the most amazing, head pops off, mind blowing dress didn't actually make it down the walk. It was more like a red rug than a carpet. With that said, there were some beautiful dresses, however, I now have high hopes for the Academy Awards as I'm convinced all the show stoppers will make their entrance in fashion history then.
I think it's necessary to get these out of the way first, so we can move forward in a positive direction and pretend this red carpet roadkill never, ever happened.
First, all my nightmares came to life when Kiera Knightley decided to wear THIS to the Golden Globes. Butterflies and clown ruffles, that is all.
Does anyone know why Salma Hayek chose to wear a vintage Jessica McClintock this year to the globes? There is just so much that is not good about this look. The strong texture of the dress, paired with a shiny metallic belt and then wait for it…the flower in her hair? What the hell is going on here? It's truly tragic.

Rosemund Pike looks radiant 5 weeks after giving birth. It's just really too bad she chose such a God awful Vera Wang dress to show her new mama body off. I honestly can barely deal with the fact that she chose this extremely ill fitting gown as her GG debut. I'm so confused about the cut, why it is riding so frigging low, I mean, doesn't she have nipples? I hate this dress. Vera Wrong!
Andrea and Nicole were over watching the red carpet and we all surprisingly agreed that Lena Dunham actually got a thumbs up in the hair and makeup department this year. Well done Lena! Now hopefully next year you pick a pretty dress because seriously what the fuck is this thing?
My biggest disappointment happened when I saw Kate Hudson. I am a huge fan of her style and she usually slays it with the most stunning gowns. This unique Versace had some potential, perhaps if it were a different color? Maybe if Elizabeth Hurley didn't already basically do this in the 90's this dress could have worked on her in black and gold. Or perhaps different hair and makeup? I'm not sure. But I am sure that her body is rocking the dress, the dress is just not rocking the red carpet. It is too stripper chic and less Hollywood glam. "Look at me, I just broke up with my husband."
These dresses are starting to make me feel sad about fashion. I would really hope Nicole would slip two Xanax in my drink and hogtie me before I ever stepped out in any of these. She's a good sister. She would save me.

Speaking of hogtie, I absolutely loved 50 Shades of Grey's Dakota Johnson's Chanel gown. It reminded me of a mermaid's tail and of course anything that sparkles gets extra points from me. It also fit her exquisitely. I would have perhaps preferred her hair up to show off her collar bone and neck and added some massive diamond earrings. But that's just me, sparkly and jazzy!
My hands down favorite piece of jewelry was Naomi Watts' Bulgari serpent necklace. WOW! It is so frigging cool, edgy, sexy and did I mention 76 carats of pave diamonds? Such a cool way to turn up her sophisticated look and not to mention her lipstick perfectly tied the entire look together!
Emma Stone's ensemble was not love at first site for me. But time has changed and I am in lust with this MIU MIU creation. It is different, sexy, THE perfect cut, stellar stilettos and frankly she owned it in this pants outfit. She hopped on the bandwagon with the long, wavy bob and I'm glad she did because it suits her perfectly. And we can't not mention the bow/train in back…to die for! This is how a nominee should dress, this is the type of fashion that is fun to see during awards season. She won in my book!
As for my favorite gown for this year's GG's, I am going to go with my gut feeling with this dress. It was perfection on tv, translates beautifully in photos and screams winner. That dress would be Julianne Moore's Givenchy dazzler. It was a bit of a show stopper and she wore it extremely well. I love the ombre feathers, it shines like a disco ball and I loved that she wore her hair down and simple. The dress spoke for itself, only a winner would wear this number. She rocked it and this is indeed how a winner should dress…with perfection.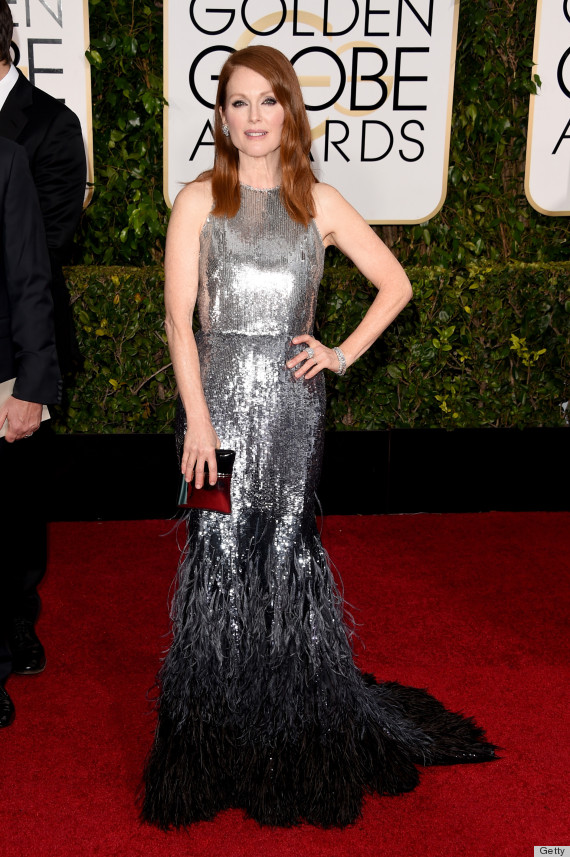 The very close runner up would have to be Sienna Miller in Miu Miu. This dress is so delicate, feminine and intricately bedazzled. She kept true to her romantic bohemian style and again, another winner of the wavy bob. Perfect frame for this beautiful creation as well.
I asked the sisters for their least and most favorite dresses and these were the results. For Michelle…she is obsessed with Reese's look (she killed it, again) however, she loathed Tina's little cupcake dress. Wtf?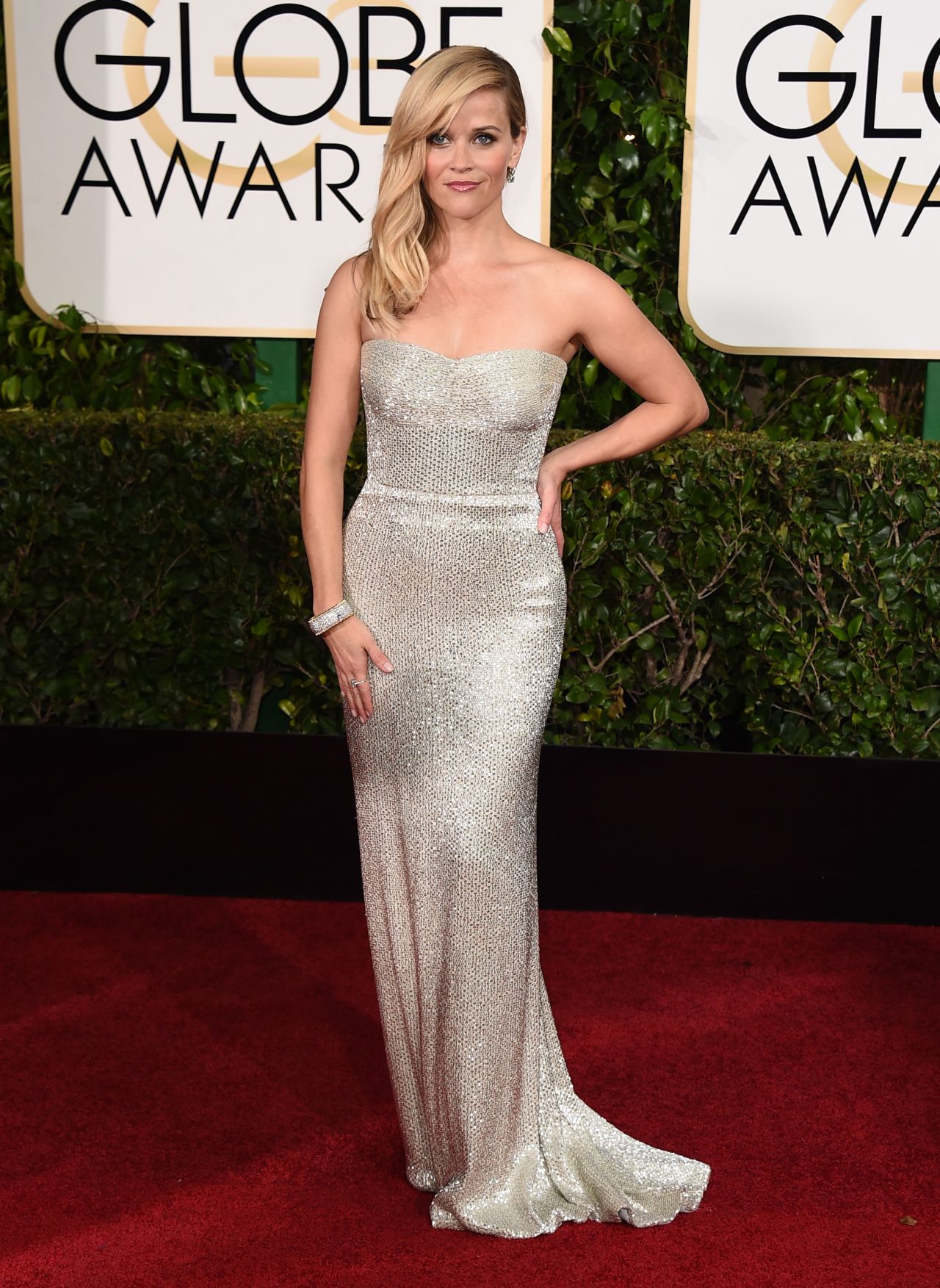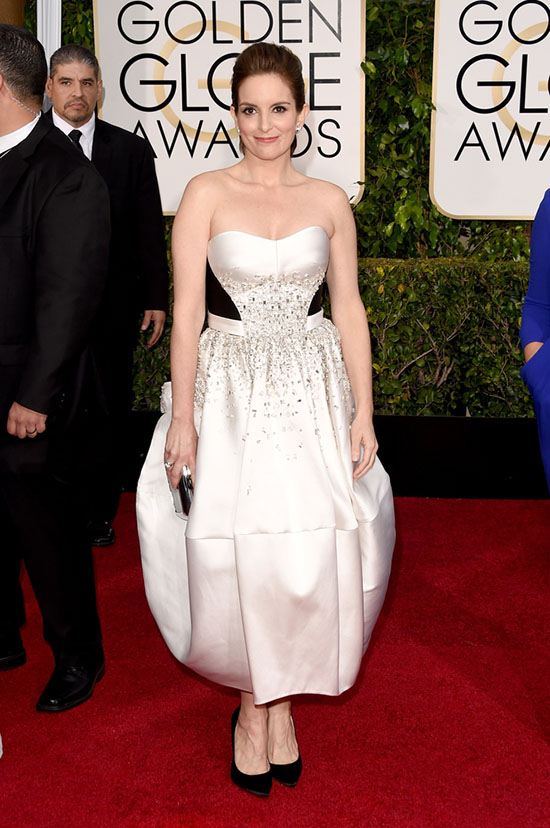 As for Nicole, she couldn't get over how much she hated Kerry Washington's dress. I will have to agree.
Nicole's absolutely favorite look of the night goes to…..
That's a wrap for this year's Golden Globes! 
Do tell…what was your favorite and least favorite dress??? xo