Vanderpump Rules
Ok, let's get right to it people. Scheana and Shay's wedding aired this week and oh the drama, bromance and crop tops! This is such spectacular entertainment. I truly enjoyed how comfortably Kristen swept into the bridal suite to deliver a photo album for the groom and then stuck around to get her hair and makeup done with the bridal party. Not a hint of hesitation. It's called, you did a favor, drop it off and say adios until the wedding starts. Shit girl, you just don't get it. I'm with Ariana, Kristen is a HUGE buzzkill.

I know this was Scheana and Shay's wedding, but for a moment there I thought maybe we were going to celebrate the bromance between Shay and Sandovol. These two are total BFF's! I honestly didn't realize they were such good buddies, but they're totally cute together. Would you look at these two?!
Alright, I am just going to come out and say it. These two are beyond mismatched and so awkward to see together. It makes my butt hurt every time they're on screen with one another. Yes, I could have gotten a better photo, but I pressed pause on what I believe to be proof that Jax was totally undressing (perhaps among other things) another wedding guest in his head while seemingly innocent Carmen looks lovingly in the distance not noticing her date's major case of the wandering eye. Tell me I'm not right? Carmen, you and your 90's prom tendrils need to get a massive clue and hit the road before Jax gives you a gift that lasts forever…and I'm not talking about a baby.
This is such a Scheana gift! It's fun, playful and has three dimensional boobies!  I would for sure drink wine from a glass that had my face and lady pillows on it. I love it! Cheers!
These days women are wearing all sort of wedding gowns so it came as no surprise that Scheana wanted to wear a crop top on her big day. I love texture and the idea of the pearls was well received on my end, but unfortunately, that was about it. This chick is so spunky and has such a cute little body there was no doubt she would do something different and would potentially be able to pull it off. However, maybe she could have kept the skirt more basic with an all silk no detail skirt or do a princess look and go all poofy with tulle. And for crying out loud, that head piece? Holy frigging Renaissance! Talk about vintage inspiration. All in all, her face and hair looked super pretty as usual, but her bridal attire failed in my opinion. Sorry M'lady!
Was this her inspiration???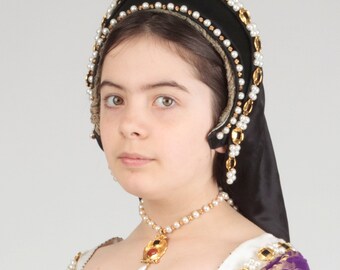 Holy shitballs…I can't wait to see what happens next week. Looks like we have a major lover's quarrel between James and Kristen and a few good bridezilla moments coming our way!!!
 The Real Housewives of Beverly Hills
We need to talk about something.  What in the hell is going on here!?!?! Every time I see this outfit in confessional I cringe.  I totally dig the hair, it reminds me of a 60's go go dancer. But, is she trying to take the attention off her boobs with her awkwardly placed necklace? I don't get it. Either ditch the jewels and let your boobs hang out because that is clearly what you're doing or try for something sexy yet classy. I just cannot deal with this look. It's so tacky.
Part of this episode was a total tear jerker. I give Eileen credit for telling her sad story about her sisters who passed and trying to help two sisters patch it up.  She spoke about how all sisters go through life together with many ups and downs, good times and bad times. It's beyond true. Sisterhood can be hard sometimes, but all that crap aside, life is too short for BS and a sister is the best gift there ever was. And let's be honest, Eileen is a much better candidate to help sisters make up than Kim's trouble making sidekick.  Although, I don't think Eileen's plan worked out as she had hoped it would. Clearly, there is something going on with Kim. I have no idea what, but it's a real bummer to see her this out of sorts.  Having Brandi as her best friend is an utter nightmare.
Lisa Rinna does it again! She is beyond a stellar fashionista and knows how to work it! Needless to say, I am OBSESSED with this look. Nude lips and heels. Big ass sunglasses and handbag. Oh and did I mention what looks to be a leopard print DVF?!?! She slays it every single time! Since it's unlikely we'll ever be friends, I'll just continue stalking her via Instagram because she is frigging hilarious. If you're not following her, get on it…you're welcome.
My heart goes out to Yolanda. Poor girl is currently fighting a big fight against Lyme Disease and I hope she is feeling better and recovering soon. You show LD who's boss girl! (Sidenote: I love how classy she always handles Brandi. Does she tell her "don't get drunk" more than it needs to be said? Nope! Someone needs to say it.)
The preview for next week made me a bit nervous. I LOVE Lisa Rinna and I think she is full of good intentions, but I have a feeling her idea for an intervention may go south with Kim R. We'll see!

I would like to give a shout out to the wedding planner. Holy hot mess! Can't wait to see what she screws up next week. I bet she won't forget both glasses, that's for sure! Love it!