The Real Housewives of Beverly Hills
Damn Yolanda!  Looking good! I thought it was a good idea to start out on a positive note because it goes downhill from here. I basically love everything about this look from the super bleached out hair, to the dress, to the nails. Well done little Dutch lady, you look fab!
Brandi decided not to join the rest of the gang on their last night for dinner because she had a date with a super horny 21 year old. Did he have to lick his lips like that? Why??? And isn't it funny how when there is no Brandi, there is no drama? Go figure. It looked like the ladies had a lovely dinner with no hissing or throwing glasses at anyone's face. Congrats RHBH!!!
Oh man. This relationship makes my heart hurt. You can see there is a ton of unresolved issues, anger and baggage. I feel for them both, but I truly feel like Kyle gets her ass kicked emotionally by Kim. They both work super hard to make their sisterhood work, but Kim seems just so stuck in the past bringing up old shit and oh yes, her best friend is Brandi, so that's a disaster for anyone trying to mend a relationship. Honestly, I think these two need some sister therapy or something. That or fucking let go of the past and move on. One or the other sisters. (Oh. And kick Brandi to the curb…she's poison.)
Last week Comedy Central roasted Justin Bieber for his 13th birthday and I just want to say that I love what he has done with his side burns and that cute little mustache of his.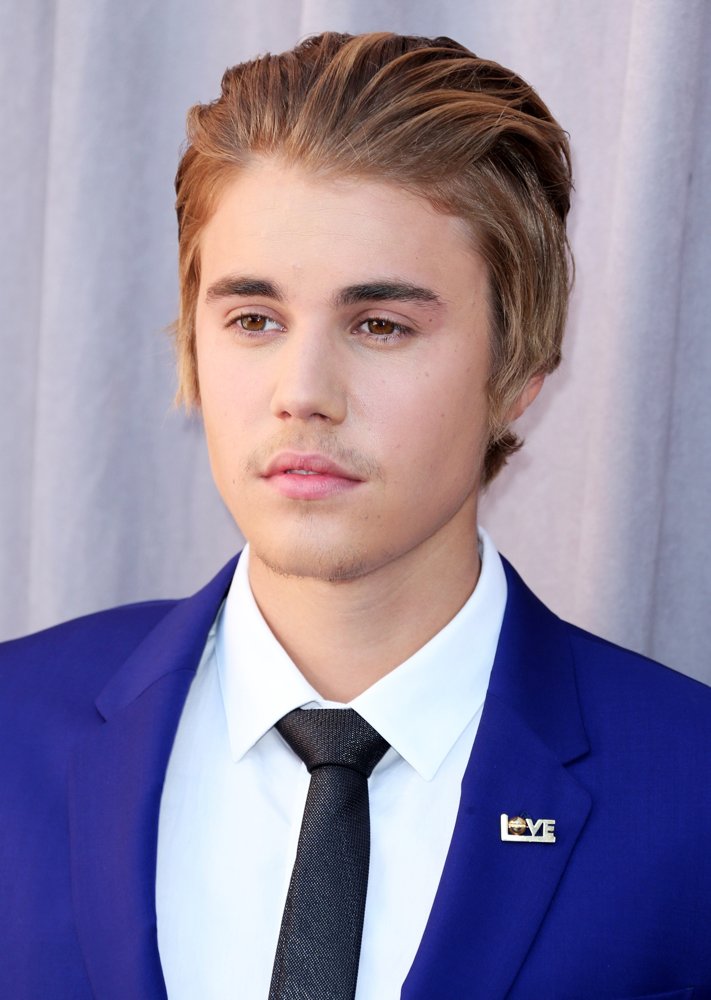 Check out the burns from the side. You KNOW Brandi would be all over that little werewolf.
Lovers in the News
Kate Hudson and Chris Martin shook up the tabloids this past weekend when they were spotted enjoying some chatting on the beach. Could it be just a casual run in? Of course. Could it be more…? We'll have to just wait and see.
I absolutely LOVE Patrick Schwarzenneger's response to this photo:
And I quote: "Omg. It's one of my best friends girlfriend." LOL! I can't. Well I have news for you dude, you're best friend might kick your ass. If you didn't know this already, his girlfriend is Miley Cyrus. And like he said, he's just really really really really close to his best friend's girlfriend. It's totally cool, nothing to be concerned about Miley. Nothing.at.all. Oh to be 21 again. So much fun and drama. I kind of miss those days and I kind of don't. I definitely miss not getting hangovers from hell, but I do not miss feelings of regret the next morning after a long night out. You know what I'm talking about…you would wake up, still a little drunk, mascara smeared, a bobby pin hanging by a hair, purse contents spewed all over the floor and immediately you would have flashbacks of perhaps some questionable behavior and decisions. Then your girlfriends would come over and you would rehash every moment of the night and look at all the photos you took on your camera, not your phone because we didn't have that technology yet. We also didn't have Facebook yet and I thank God every single day for that. Can you imagine your teens or early 20's on Facebook? No fucking thank you. Nope.
In Music News
Before signing off, would just like to point out our Uncle Ben on Jimmy Fallon last night playing with Modest Mouse. Hell yeah Uncle Ben, rock on with your bad self!!!!
Peace out TSPeeps!  And remember, don't make out with your best friend's guy or girl on Spring Break!