Yep, that's Snoop just smoking a blunt during Comedy Central's Justin Bieber Roast. I mean, let's be honest, wouldn't it be nice to be able to once in a while just smoke a joint whenever and where ever you damn well please without anyone hassling you? Say, like at a music festival without security confiscating your goods or outside a bar without the 21 year old bouncer putting you under citizen's arrest. I really didn't appreciate either of those instances. Anthony often says, "Lauren likes to think she's in Amsterdam", to help diffuse the situation.  In any case, I digress. The roast was frigging amazing and hilarious! There were a ton of totally inappropriate, phenomenal jokes I shan't say here so you should really just watch for yourself. Some of the best (and cleanest) jokes were the ones which compared Snoop's likeness to; Shaquille O'Neal's skeleton, Splinter from The Teenage Mutant Ninja Turtles, a retired WNBA player and a salamander.  You're welcome.  Seriously, Snoop smoked so much grass I don't know how everyone in the place wasn't high as hell. Oh and Martha Stewart…yes, yes and some more yes! Every roast should have her there because she is a perfect addition to the crew. This next part is particularly hard for me to say so bare with me. Deep breaths. Ok, here it is. Justin Beiber was….funny. There I said it, now leave me alone! And now, I'm attracted to him…in a hot lesbian sort of way.
Last week Angelina Jolie revealed that she had her two ovaries and Fallopian Tubes removed because she carries the BRCA1 gene which severely raises the probability of her chances of the getting the same cancer that her mother passed away from at the age of 56. I love her honesty and that she shared her story with the public. I think it gives strength to those who are perhaps in similar situations as she is. Jolie and two of her cuties were at the Kids Choice Awards, which she won best villain for Malificent, and in her speech she encouraged kids to embrace being different and whatever makes them different is ok! Love her, love her message and love this photo! Frigging adorable!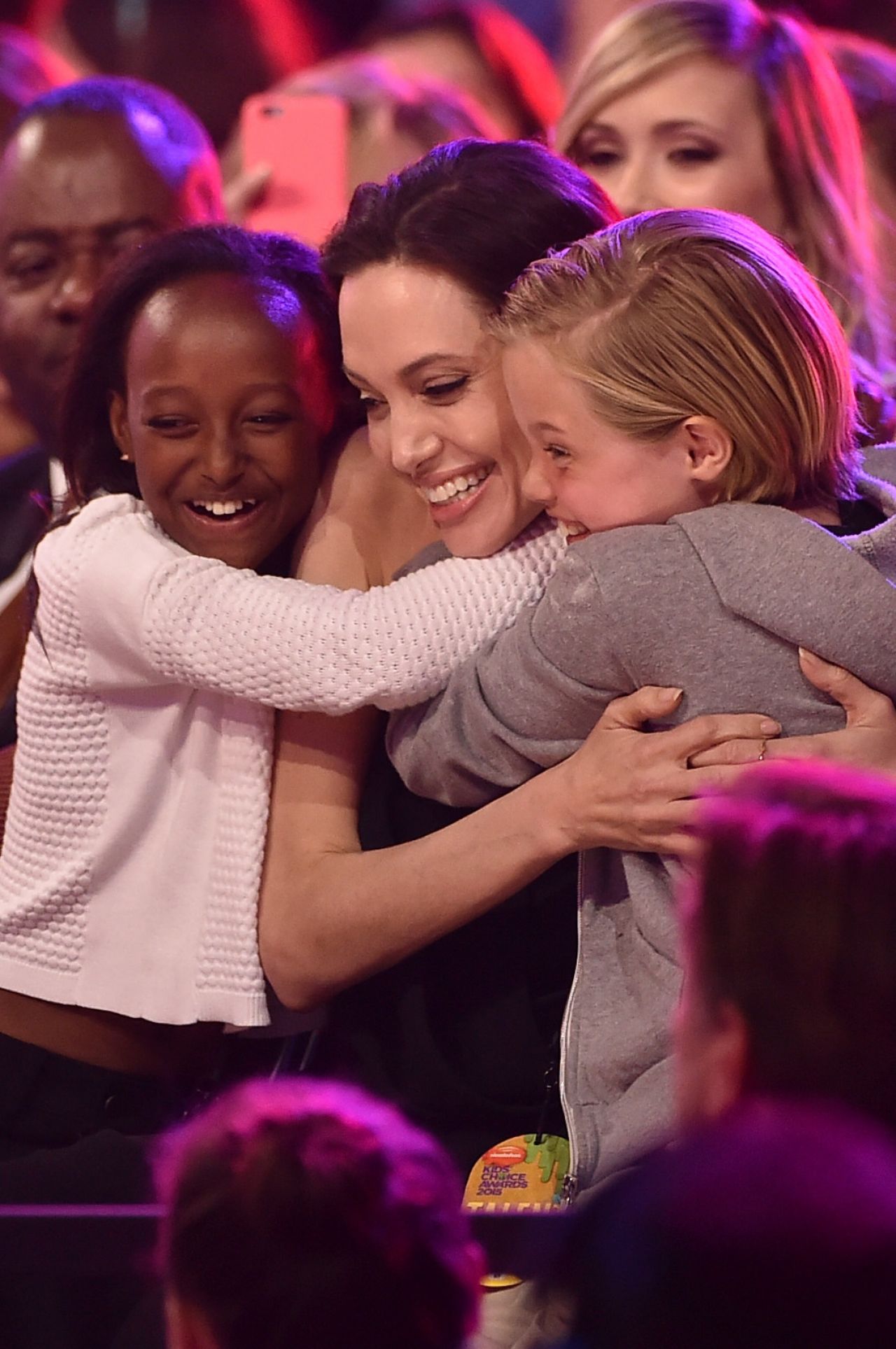 The iHeartRadio awards were this week and I didn't watch them. I did however see some photos from the event and I loved Taylor Swifts attire for the evening. You see, I am not particularly a fan of hers so I was surprised when I saw her and instantly loved her look. This dress is killer!
But then I saw this photo and remembered why she annoys me so much….
The documentary on Scientology, Going Clear, debuted this week on HBO and OMG this "religion" is far beyond messed up. There are so many disturbing facts and stories regarding this club, it's hard to believe any of it is true. Some of the most high profile members are our leading actors in Hollywood including Tom Cruise and John Travolta. Apparently, if you're naughty and those in charge find out you've gone against the church (and they WILL find out) you are put in "the hole". Ummm, what? Is this Silence of the Lambs? Do you have to put lotion on the skin as well? How and why in the world would anyone subject themselves to abuse and kidnapping? Literally, people go missing in Scientology. All the crazy stories aside, this group needs some new designers in charge. This may be, in fact, the most 90's religion there ever was. From their gala set designs to the names of their buildings, ie. The Super Powers Building, they're in need of some serious help. They can't possibly let the alien mother ship come to get them with the current situation they are in or these aliens are going to be pissed off. The last thing I would want is an angry alien coming to get me, so they best get their act together.
Here we have Tom Cruise and David Miscavige, the current leader of the church, throwing out the casual Scientology salute. Looks intense.
I swear, one of these days I am going to go to my hair salon and leave with mermaid hair. I have been obsessed with the pastel hair movement ever since lavender took over last year. Hilary Duff is the latest celeb to dye her locks and she is rocking it! Love, love, love it! You go girl!
Speaking of hair…here's that one time I went to meet Jax from Vanderpump Rules and set my hair on fire.
Readers Survery: Should I dye it purple, blue, gray or green???? xoxo