I'm going to start this post off on a sexy note. Last week while staying in Venice Beach, we were walking down Abbot Kinney (the main, coolest street with the best restaurants and stores) and just as Anthony jokes that Wes Anderson was walking towards us, we all walk past Reese Witherspoon's hubby, Jim Toth. I was the only one that noticed. Wowza! He was super dapper in a suit and tie with nice shades. I didn't ask for a photo or try to sneak one because I'm not a total creep, but here is a reminder of how handsome he is.
I also saw Cheryl Hines (Curb Your Enthusiasm) walking in Santa Monica. I was standing outside a board shop waiting for Anthony and I looked up and stared for a second because it was one of those moments where I wasn't sure if I actually knew her or if I recognized her from some where. Well, she seemed to see me being a Staring Sally and bee-lined for the nearest store front to escape and poof! She was gone. Anyways, I went back into the store to have a seat and the poor thing walks right in after me, presumably thinking the coast was clear. I decided this time to not stare or make eye contact because I had already felt like I'd done damage in that department. In any case, she is super cute and small and has the sweetest little voice ever. She seemed super friendly and down to earth.
Alrighty, let's move on to some celebrity news. In a not so shocking turn of events, Miley Cyrus and Patrick Schwarzenegger have officially called it quits. This comes a day after Miley posted a photo on Instagram wearing heart pasties and smoking out of a massive bong in celebration of 420. Perhaps that sealed the deal? Here's a SFW photo of our little Hannah Montana celebrating Pot Day! If there is one thing to know about me, it's that I hate stickers. I hate them even more when applied to the face, under any circumstances. Whyyyyyyy?
I think this is a perfect segue to Charlize Theron's interview for W magazine. She is hot, hot, hot! Charlize is starring in the new Mad Max and from the look of it, she is going to look good doing it! As you probably remember, she starred and won the Oscar for her role in Monster where she shaved off her eyebrows and gained thirty pounds by eating massive amounts of donuts. JEALOUS. Donuts are my thang! Also, if you remember what Aileen Wuornos looked liked, she had some frizzy ass hair and sometimes in the morning I wake up with super, crazy hair and Anthony tells me I'm pulling "a Wuornos". Sweet. As a thirty two year old woman I really appreciated what Charlize said in her W interview. She seems super down to earth and chatted about woman aging and to embrace every age, stop judging other women, to slow down and to not hit the Chardonnay too much. Does rose count?! Check out how hot she is looking! At 39, home girl is killing it!
It's time for the Coachella Awards!!!  I LOVE Coachella. I've been three times and had temporary plans to go back this year but instead went out to California to meet six babies and had Babychella 2015. But let it be said that the fashion is JUST as important as the music and the art installations at this world renown music love fest in the desert. Let's start with my simple favorite look and couple…the award goes to Diane Kruger and Joshua Jackson because I frigging love them and they look normal. I love her denim on denim with her pop of color via a red string bikini. Perfection.
The worst shoes awards goes to Princess Paris Hilton. In all honesty, Coachella is the perfect place to wear cat ears and super flowy skirt, why not? But why Paris? Why the round toe flats? That little crop top and metallic tattoos are a plus, so much fun for a desert party. But for crying out loud, it's those flats that completely throw me off.  Girlfriend, get some funky sandals and dance your little blonde ass off, let your feet feel the grass!
For best boho chic…Gigi Hadid blows it out of the water! I frigging love her color scheme, her fringe and her low maintenance blonde waves. Oh and loving her forehead decor! For me, if I was born with supermodel legs, in my early twenties and looking for a boyfriend…this is what I would wear. Well done, Gigi. You done did Coachella right!
The best Coachella hair color award goes to Julianne Hough for her soft pink do. Lovey, love, love. I'm not completely head over heels for her entire ensemble, although I do love her denim shorts and sunnies and she does look frigging good. I can dig it to a degree.
As we know, ANYTHING goes at Coachella. Kylie Jenner gets the I don't give an F award and did her thing. Let's have a look and then discuss: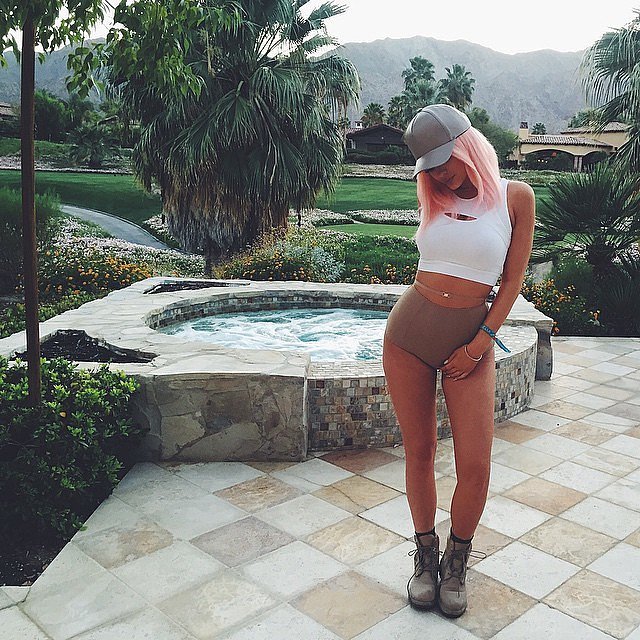 And last but certainly not least:
Here's the deal, the chick is 17 years old. That's pretty much my main concern here. My parents would have murdered me. However, I must give credit where credit is due. I love her color schemes of the pink, tan and cream and honestly LOVE the black and gray french braids. Take bit and pieces from each outfit and she possibly could have killed it. Instead, she looks more stripper chic than funky hipster desert chic. But YOLO!!! I mean, some of the things I wore in my early twenties are beyond embarrassing and I thank my lucky stars social media was just a little fetus at that time. Phew!
Another outfit I loved was Kate Bosworth's. She almost always looks flawless in the desert and did not disappoint this year. Those booties with the metal stars?! GIMME!
I think it goes without saying that Kendal Jenner gets the award for the most pirate inspired ensemble. Aaaaarrrrrrrrrrrrrrr matey! Come on girl, you can do better than this.
If you watched after school TV anytime between 1989-1995, you may want to take your seat. If you haven't already heard, Full House is frigging coming back!!!! Uncle Jesse (aka the hot 50 year old John Stamos) confirmed on Jimmy Kimmel and basically chicks from the 90's are going bananas. It will come back as Fuller House focusing on DJ and Stephanie Tanner, Kimmy Gibbler and guest appearances by Uncle Jesse. The others have not been confirmed but are apparently in talks with producers. My life would be complete if the Olsen twins appeared on my television. I love those funky little twins! Let's take a stroll down memory lane, shall we.
Oh. Hey Kimmy's bangs.
I know this isn't Uncle Jesse…but this is way better.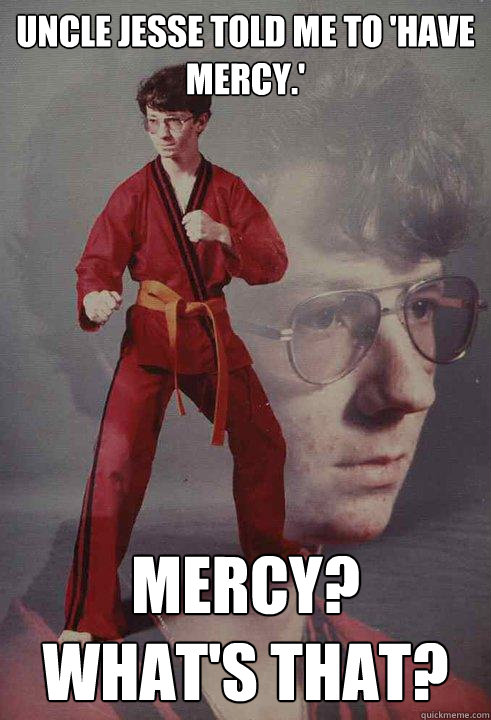 Last night at the Time 100 Gala, comedian Amy Schumer threw herself to the floor pretending to fall right in front of Kanye and Kim Kardashian West. Gosh! Kanye is such a gentlemen to help her up! What a pill.
Amy asked her publicist, "Can I pretend to fall?" to which her handler responded, "I can't stop you." I like their style! Well done!
There you have it TSPeeps! Do tell…who was your favorite Coachella dressed celeb??? xoxo