So I know – you haven't heard from me in a while. They usually keep me chained up in a crawl space and only let me out to make them drinks or pose for group family pictures. Despite that, I think I have some new material worth reading. The sisters almost had a group heart attack when I informed them that my summer music blog was ready for edit. Yes we really do edit this shit – this is a serious operation. Anyway, after a little research on the world wide web and a tenacious listening of music (none of it country) I have laid out a good plan of attack in case you want to get in on the music scene this summer. And honestly there's so much to see that I am breaking it into two parts, so your brain won't explode (mine almost did). So this should get you to mid-July. Here you go, a guide to the Chicago summer music scene, Part One….
Taste of Chaos  June 3 @ First Merit Bank Pavilion at Northerly Island
Hey listen – you gotta start somewhere and this is to show that I'm trying hard not to discriminate against any types of music. So if you're into Dashboard Confessional and Taking Back Sunday then shit, I guess this is where your kick-ass summer in music starts. Looks like tickets are about $50 – $60 ea. The high price of being a huge dork. I tried.
Do Division Fest  June 3 – 5  (On Division Between Ashland and Leavitt)
The rest of us will try and start the summer here. Last year this was an absolute shitshow because of weather, so I'm hoping for a little better treatment from old Mother Nature this time around. This fest is not purely about music but just an all-around good time. That being said, there's some decent stuff. On Friday Peanut Butter Wolf, a DJ who channels 90's hip hop, will be on one stage while Nikki Lane, a young country singer, will be on the other. As for Saturday and Sunday – the three that jumped out at me were Beach Fossils (a Brooklyn band that sounds very much like California), BADBADNOTGOOD (Toronto trio that blends jazz and hip hop), and A Place To Bury Strangers (these seasoned shoegazers are surely the loudest and darkest of the bunch). Kind of excited for this now that I think about it. For a $5 donation you can't beat it, unless you're cheap as F%&K.
Chicago Blues Festival  June 10 – 12 @ Grant Park
It's the largest free blues festival in the world. And it's in the city you live in. Does that intrigue you or scare the absolute claustrophobic suburban shit out of you is the question?? Listen I would be bullshitting you if I claimed to really know anything about Blues, but people who do know – respect what goes on here. So feel confident that you can wander around and just take in the awesome sounds of what this city invented. Headlining Friday is Grammy nominated Shemekia Copeland, while the Saturday spotlight will belong to Fred Wesley & The New JB's. Sunday it seems everyone and their mother will be paying tribute to legendary blues guitarist Otis Rush. F-R-E-E.
Spring Awakening  June 10 – 12 @ Addams/Medill Park (1301 W 14th St)
The city has two faces this weekend – and this is the other one whose jaw is actually trying to eat its own face off (obligatory MDMA joke). The location is no longer Soldier Field – how they let it be held there for years prior still shocks me. This year will mark the 5 year anniversary of Chicago kids everywhere disappointing their parents with their taste in music and with that milestone naturally comes a new locale, and of course now it happens to be pretty close to our house. But I must admit that on paper the lineup is actually pretty good. From old school trancers Above & Beyond to new school duo The Chainsmokers, there are a lot of big names. Kaskade, Steve Aoki, Jamie XX, Crystal Castles, Flying Lotus, and Deadmau5. Shit – I might have to stroll on over there for a night just to check it out. Should be pretty chill. $199 for a 3-Day G.A. pass / $299 for a 3-Day VIP. Wait – no single day? Looks like I might have to either jump a fence (what could go wrong?) or buy a wristband and molly combo meal from some 17-year old outside (seems almost too easy). F.
Taste of Randolph  June 17 – 19 @ 900 W Randolph
One of the better street fests with easily the best food also gets to boast a good music lineup this year. Peter Bjorn & John, MS MR, and Atlas Genius – not bad at all. But I know who Midsis is most excited about – DeVotchka. If you have never seen them, this is your chance. And if you know how good they are then you are probably looking forward to fortunately catching them here, since they have been seemingly M.I.A. for a few years. The schedule is not out so no idea who plays when yet. Sunday is always a pretty uncrowded affair due to Father's Day, so it's a good chance to eat all that food and enjoy any music you didn't get a chance to on that crowded Friday or Saturday. Your dad will completely understand if you ditch him early so you can go eat a super expensive fancy hot dog and hear some band with a name he can't even pronounce, right? The price for disappointing your dad yet another time: a suggested $10 donation. Don't be a cheap prick on top of being an asshole child.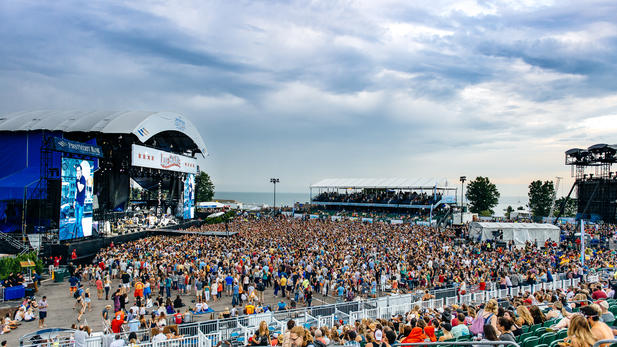 Lake Shake Festival  June 17- 19 @ First Merit Bank Pavilion at Northerly Island
Jason Aldean! Lady Antebellum?! Tim F$%king McGraw?!?! Wowww. (Can you tell I'm pretending to be excited about country music?) I don't judge though if this excites you. The lineup includes many more country sounding names so check it out. Brooks and Dunn are still alive also and said they will be there to prove it. $99.50 Single Day / $225 for a 3-Day G.A. Pass. Get'er done
Wicker Park Green Music Fest  June 18 & 19 (On Damen Between North Ave and Schiller)
This is the one that has bikes powering the stage – and is all about being all green and sustainable. It also happens to be in a pretty nice spot which happens to harbor one of the city's busiest and best day-drinking and eating spots – Big Star. I didn't make it to this fest last year. This year could be tough too. Midsis is booking up my summer faster than I can say "I f%&k-ing love Waxahatchee." That's a band in case you didn't know – they're not bad. Black Joe Lewis will be bringing his own brand of energetic rock/soul music as well. Actually, after some light research it looks like King Khan & The Shrines aren't going to be a snoozefest either. And then there's BRONCHO. I know one song – "Class Historian" and I might love it enough to try and see them live even if it means pulling a houdini on Midsis at whatever the hell she has planned for us –  is there a Turmeric Festival that night? Shit. Anyway, you can get all this and more for, you guessed it……a $5 donation – the price of half an organic city smoothie. I'm really going to try and make it this time.
Logan Square Arts Festival  June 24 – 26 @ Logan Square Monument (3200 W Logan Blvd)
I think I went to this one randomly on a Saturday last year. It was a pretty good time. The music was a little obscure, but it was good to be right in the heart of Logan Square for a fest that wasn't overly crowded. Plus, you have a plethora of bars/restaurants around there to hit up before or afterwards. The music this year again obscure – I mean I seriously can't tell if they're band names or ingredients. That's Logan Square for you. Give it a shot, and of course get ready to part with that sweaty, crinkled $5 bill for an offering to the gods. Then go to Billy Sunday for a stiff drink afterwards followed by more drinks and a late night double burger at Parts and Labor.
Mamby on the Beach  July 2 & 3 @ Oakwood Beach (4100 S. Lakeshore Drive)
This newcomer was one of the best surprises of the festival season last year. What used to be an overstretched, industry-obsessed Wavefront Fest is now the more streamlined and balanced Mamby Fest. You may not know Oakwood Beach exists but it does and it's a nice little spot. The lineup is also pretty solid. You get a little mix of weird with Animal Collective, Milky Chance, and Thao & The Get Down Stay Down. Then you got some feel-good dancier stuff in Santigold, Miami Horror, and Chromeo. Get your hip hop / rap fix with Atmosphere on Saturday and Chicago's own Lupe Fiasco on Sunday. Throw in some slower stuff to set the mood like Australian import Chet Faker, or rising R&B star Gallant. Two acts I would try and catch are Tycho and Small Black. Don't forget about the DJ Tent either – it's a pretty awesome setup and a nice little escape, especially if you're feeling good (kind of f&$%ed up). $65 Single Day / $125 for a 2-Day G.A. Pass. The VIP option was pretty nice last year with the 2-day being the best value: $150 Single Day VIP / $229 2-Day VIP.
Square Roots Festival  July 8 – 10 (Lincoln Square – on Lincoln between Montrose and Wilson)
So here's even more proof that music fests stretch to all corners of the city – this one in Lincoln Square. I guess this happened last year but I had no idea. Well, hey good news – it's back. The Old Town School of Folk Music puts this one on, so I would assume they know their music. I can't claim to know any of these bands, but I'm sure you'd see some talent here. This could be a nice surprise in between the craziness of Mamby and Pitchfork. And wait, there is one band I recognize. Boom, you guessed it….Urge Overkill.  Mark your calendar for that Saturday night. You remember the lyrics……."Giiiiirllllll, ……you'll be a wommmman,,,,,,sooon….. if you stop being a little bitch and just donate the suggested $10."
Pitchfork Music Festival  July 15 – 17 @ Union Park (1501 W. Randolph St)
One of the best music fests year after year. You never quite know what you're going to get as the lineup over the years has been all over the place. This year is really no different. I'm not exactly wowed with it as I have been in years past, but bands have a way of sneaking up on me and then I realize Pitchfork has a decent pulse on things. Carly Rae Jepsen on Friday kind of throws me – shit maybe I do get older every year? Thought that was a myth. Beach House is also on Friday – a Pitchfork alum and Midsis favorite. Broken Social Scene will serve as the real veterans that night, while Car Seat Headrest will be the young talent really making a name for himself in the festival circuit after his latest album Teens of Style. Saturday brings us Brian Wilson performing Pet Sounds – sounds cool, but not sure how that will actually play out. Sufjan Stevens has never been a regular part of my repertoire, but people do love his music and he seems to have made his live performance a little more fun so maybe I finally catch him here. Super Furry Animals – a psychedelic band from Wales sound intriguing if Midsis really makes me hit the old weed pen hard enough. Saturday is such a hippie day – it's kind of ridiculous. They do manage to throw in some Digable Planets, Blood Orange, and relative newcomer Anderson Paak for good measure though. But the highlight for me will be to see Savages again – this rock band from London does not F&$k A-round and might have one of the best frontwomen I've ever seen perform – no joke. Trust me. Sunday highlights include FKA Twigs, Holy Ghost!, Miguel, Neon Indian, and Empress Of. There's enough there to make a day of it but I feel it's missing a true headliner, but maybe I'm a spoiled dick. Listen – just get out there and you'll have a good time – and keep an eye out for Egon, our spoiled dick of a cat, cause that's where we will be. $65 Single Day / $165 for a 3-Day G.A. Pass.
Single Shows To Consider:
*Yeasayer  May 23 @ Lincoln Hall — strange dudes who know how to put on a good show
Rogue Wave  May 26 @ Thalia Hall — great venue and just realized the lead singer's name is Zack Rogue
*Blonde Redhead  June 6 @ Pritzker Pavilion — these old pros are weird and sometimes eery but can play
Tame Impala  June 9 @ UIC Pavilion — hate the venue, but one of the best bands in the world right now
*Santah  June 10 @ 1st Ward at Chop Shop — support Chicago's own dream pop group and friends of thesisterproject, cool venue
Adele  June 10 @ United Center — at least they'll be some good late season action at the United Center
*The Pigs  June 11 @ Brixie's in Brookfield — some of you might be like W-in-TF? Well – our very own Michelle is in a cover band now, so after years of just gracing us with her vocals sporadically at family functions and parties the time has come for her to go legit. I've seen the band practicing on snapchat – they're awesome. See you there.
The Lumineers  June 19 @ The Chicago Theatre  — sure to be a good show though I still can't figure out which songs they sing and which are from the other bands like them
Flight of the Conchords  June 19 @ Pritzker Pavilion — these guys are still funny, we are not making this Sunday easy for you
Bob Dylan / Mavis Staples  June 24 @ Ravinia — if you need a reason to go to Ravinia this is it
Phish  June 24, 25 @ Wriglet Field — if you need a reason to dip into those shrooms this is it
*Guns N' Roses  July 1 @ Soldier Field — will Axl be out of his big chair by then and will Slash be alive?
Peter Gabriel / Sting  July 9 @ United Center — if you're old as fuck get tix now through a broker in person (the internet is scary)
Alabama Shakes  July 19 @ Civic Opera House — if you really like music and strong female vocalists that will sing your face off
Coldplay  July 23 & 24 @ Soldier Field — I honestly hate them, but I'm guessing many do not
Drake  July 26 & 27 @ United Center — I heard he's so good at memes
*see you there
That's it, you maniacs. Part One. Stay tuned for Part Two where I will highlight Lollapalooza, North Coast, Jazz Fest, Riot Fest, and more. Anything I missed that's worth knowing or any questions, or any creative ways to get out of summer activities so I can go to more fests, please let me know. The Mister Project is all ears. Ok, back to the crawl space I go.
Dig it? Share it.