Holy sh*t! Is this season crazy so far or what? How are these ladies unable to get together and not fight…like ever? Every time they are in the same room someone is hollering at someone else. Maybe it's just me, but when I see my friends the first thing on my list of things to do is not to rip them a new a**hole. BETHENNY. Sweet Jesus, child needs to simmer down and stop. Stop telling people what to do, how to behave, how to run their business, how to be honest, how to be slutty, how to throw a party, who to date, how to date them, how to decorate their house, how to market their products, how to be a good friend…have I missed anything?
Here's my take on this season of Bethenny of New York. I mean, that is what it should be called, right? Now before anyone gets their panties all bunched up let me make one thing very, very clear. I am all about strong, independent, smart women. I love nothing more than seeing a lady rock it in this world. What Bethenny is doing isn't easy. In a world where men run the show, it's sexy and badass when a woman takes charge. Bethany has done that. She took her brain child and ran all the way to the bank with it. However, that is where my admiration for her comes to a screeching halt. Because when you ruin every single get together, one on one meeting, and girls weekend away because you can't stop yourself from being a total bully, then there's an issue. And in my opinion, she's the issue. One person can't possibly have issues with almost every person she comes in contact with and not be considered perhaps the source of the problem.
Who cares if Luann sleeps around? Who cares if Sonja has come up with yet another idea that in Sonja fashion probably will not come to fruition? Who cares if Dorinda dates that dude and if he snorts cocaine and eats copious amounts of Viagra? Who cares if Julia is exceptionally skinny? Doesn't she have a multi million dollar business to run? And I'll tell you what really pissed me off, when she bullied Sonja in front of her staff. Doing that in front of her assistants and bringing her to tears was a sh*tty thing to do. I'm not down with people who put others down in front of people like that. People do that to make themselves feel bigger and better. There's a way to go about things. I get that she was annoyed by Sonja, but there was no need to be a total betch. Speak to her privately and I don't know, maybe be nice about it. She uses her snarky comebacks as a way to protect herself, but from my standpoint it's causing her more hurt than help.
The good news is that she kind of feels bad after she goes on her venomous shouting sprees. Her devil tail recoils back into her butt and she suddenly has sad eyes and voices how awful she feels. You know what she needs TSPeeps? She needs a dose of yoga from the midsis. Let's write her a letter.
Dear Bethenny,
Get it together. Soften up and allow those around you to be humans and experience their life how they want to, not how you think they should. To help in your efforts to come down to earth back to where the rest of us are hanging out and having fun, I will offer you a free private yoga class. I make pennies compared to you, but I am willing to donate a class in an effort to chill you out. I will get you so high on lavender oil and palo santo, you better believe I'm going to temple rub the anger out of you. We're going to meditate your titties off until you are so sweet that your friends think you were abducted by aliens and they swapped your brain out for Mother Theresa's. You need to relax and be okay with people not doing things the way you think they should be done. No one ever wants to be the "your" in, "it's your world, we're just living in it" and I'll tell you why. Because it makes you sound like a self centered a-hole and no one likes those. So, let me know if you want to come by for some yoga. We'll sit and have wine after and I won't make the mistake of asking you for marketing tips, we'll keep the convo light and friendly. I don't want to end up getting hollered at a year from now for saying something dumb after too much rose and have my head chopped off. No way José, can't fool me! I can promise you that after one class we'll have you being kinder, more compassionate and heck, you may not even verbally assault someone at your next dinner party. But baby steps, one thing at a time. However, if you aren't going to take me up on this yoga offer then go to your nearest high school, find the school loner and buy a ton of pot off of him. Roll a huge joint and suck on it for the rest of the day.
Peace.
The Midsis
Lastly, I would like to give an honorary mention to Luann's ex, Rey. Ummmm, is anyone else with me that that four minutes of RHONY goes down in history as one of the best yet? "Friend WHOOOOOO?!?!" Plus, he, along with Ramona, provoked John to bring back, "talk to the hand". Anyone that does that deserves an award. Love you Rey! Hope your charity is going great!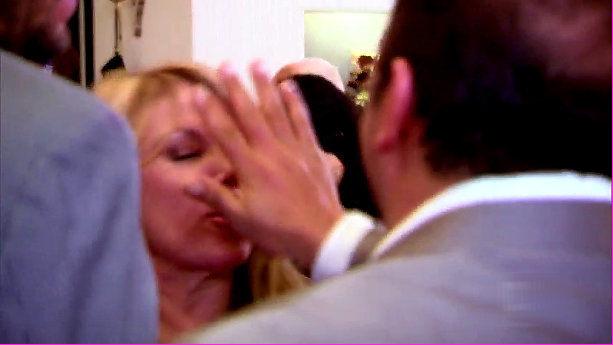 Love it. Live it. Share it.