Will there be a Sex and the City 3?! Not so fast….
A couple days ago Sarah Jessica Parker posted a photo of her looking fabulous and sashsaying out of an NYC Bloomingdales. Now, the moment I saw this photo and the caption:
I immediately figured that her amazing line of shoes was going to be welcomed into the Bloomingdale's family. I mean, duhhh. Right? Well, it's clear not everyone knows that SJP has a shoe line because millions of people translated her Instagram post as some sort of top secret "Sex and the City 3" message to the world. LOLOLOL! I love the hysteria that surrounded this photo. So to fill you all in, SJP now has her own line of fabulous shoes; SJP by Sarah Jessica Parker. These heels are SO Carrie Bradshaw, I just love them! They are so classy, sexy and feminine.  UPDATE: This morning it was confirmed her line will be gracing the shoe department of NYC Bloomingdale's come June. Go ahead…click and shop around!
Morgan Freeman's thoughts on the legalization of marijuana
I mean, how can I not use this amazing creation to discuss Morgan Freeman's gigantic support for the legalization of marijuana? I want to smoke his head! It's brilliant. And so is his stance on legalizing our little green friend. His love for the Maryjane goes back to the 60's when his first wife introduced him to it and apparently it was love at first inhale. Morgan isn't just keen on getting high as a kite he also attributes medicinal marijuana to relieving pain due to fibromyalgia as well as other chronic pain due to a massive car accident in 2008. He has very strong feelings on why marijuana should be legal on all fronts. In a recent interview with The Daily Beast he exclaims he'll "take it however it comes. I'll eat, drink it, smoke it, snort it!" He is all about this movement and very happy to see that progress is being made where it should be. He told Newsweek back in 2012, "It's just the stupidest law possible, given history. You don't stop people from doing what they want to do, so forget about making it unlawful. You're just making criminals out of people who aren't engaged in criminal activity." Amen! I couldn't agree with Mr. Morgan more. If you want to learn more about this issue check out the documentary, The Culture High. Make love, not war on a drug that can help people in many, many ways.
Kylie Jenner's lips and 25 year old boyfriend
In other "news", it is reported that Kylie Jenner's family thinks the 17 year old's boyfriend, Tyga, 25, father of one, is a bad influence on her. Oh really? You do? Golly, what can be so wrong with a 25 year old man dating a 17 year old young girl. What's that little word I'm looking for???? Oh, yes, UNDERAGE. Sweet Jesus. What is wrong with these people. Plus, who doesn't want to be a step mommy at 17??? Moving on. After weeks of kids sucking on shot glasses and drawing lip liner up to their eyeballs to achieve a natural pouty lip like Jenner, she has finally admitted to getting lip injections. Seriously? Anyone who thought she gets this lip without any help from a doctor needs to get their head out of their ass.
Whiplash star saves pregnant woman in Miami
In cooler, more impressive news, let's hear it for Miles Teller for saving a pregnant woman from a riptide in Miami this week! Bravo! He's literally a hero. This cute fella was amazing in Whiplash and if you haven't seen it yet, grab a bottle of wine, have a seat and get ready for an unbelievable roller coaster ride of a film. If you love jazz music, you will especially love Whiplash. Get it done.
Scarlett Johansson named "physically perfect"
According to the lingerie brand Bluebella, Johansson's measurements of her sexy bod has her at number 1 for the most physically perfect human being/celebrity. The Ancient Greek's used the "Golden Ratio" for determining their idea of what perfection is and Scarlett's bust, waist and hip measurements and ratio come in at 96.4%. That's damn near close to perfection if you ask me. I have always been a fan of ScarJo because to me she is the epitome of natural, feminine, gorgeousness. From her curves, her voice, to her stunning facial features, this betch has it all and I am loving it. She is definitely my girl crush. Let's have a look at what physical perfection looks like, shall we?
She is STUNNING. If you haven't seen her 2013 film and you're into weird ass thought provoking movies then watch Under the Skin. WEIRD and awesome. My other favorites of hers are Lost in Translation, Vicky Cristina Barcelona, Match Point and Her.
Cannes Film Festival Three favorite Looks (so far)
Speaking of gorgeous…Lupita Nyong'o graces the red carpet at the Cannes Film Festival in this absolutely stunning, vibrant Gucci creation. The detail, color, cut and fabric are mind blowing. Wow!
Naomi Watts in this silver, beaded and feathered Elie Saab is perfection for the blonde beauty.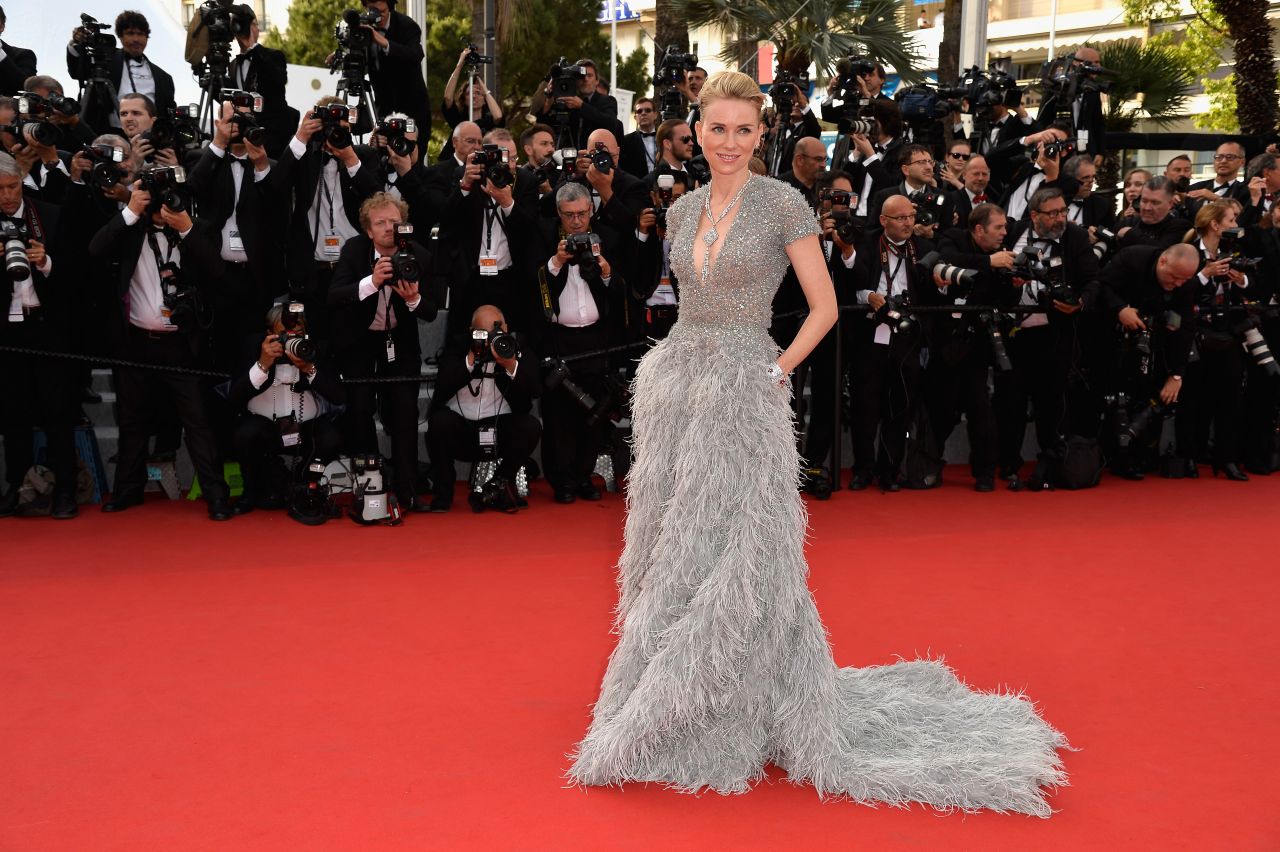 This color, cut and texture is absolutely perfect for a model mama to be. Noemie Lenoir is radiant in this Chloe frock. I LOVE the blue accent as well.
Love it. Live it. Share it.