With tomorrow being Thanksgiving, now is the perfect moment to sit back, relax and think about some of the wonderful things you are thankful for. I've said it before and I'll say it again…every single day, think of three things you in which you are grateful. These things, people, or moments you are grateful for can be anything in the world. Just do it. It is a proven fact that people who show and express gratitude lead happier and healthier lives. Here's the deal. It's easy to wake up and think, "Ugh, I have to get up for work and drive out in the freezing weather and sit in traffic for an hour. But first let me read some really depressing news stories while I drink my coffee, blah blah blah." OR "Rise and shine! I am so thankful I have a job and even though I am in traffic, I have a car to keep me warm and maybe I can use this time to call a friend I have been meaning to catch up with." It's a world of a difference what positivity and gratitude can do for you and your day. It takes much less effort to focus on the negative, on what you don't have. Do I want a Chanel quilted purse one day? Hell yes I do! But I don't plan on being a Negative Nancy until I get one. Do I sometimes think something isn't up to my standards whether it'd be a meal at a restaurant or a yoga class I just attended? You better believe it. I try to choose my battles wisely. Sometimes you just need to absorb the positive side of things and be grateful you even had the opportunity to go to a restaurant or yoga studio.
When I was struggling with anxiety a while back, I realized that the news was having an affect on me. Ever since I was young, I have followed major news stories, often finding myself reading some really sad and messed up stuff. It can really bring a person down. I had to take steps to limit my intake of major world stories and reroute my attention elsewhere. Now, add in the terrible events that are over-saturating every single news outlet these days…"anyone have a giant Xanax I can suck on?" For today, I decided it would be really heartwarming to share with you some of my favorite news stories showing human compassion, love and some humor. I am extremely grateful for these stories because they tug at my little heart strings and remind me that there is still SO much love and happiness in the world. You may notice a lot of old people here…Nicole and The Mister Project may be the only ones that know this…but old people make me cry and melt my heart. These are definitely worth your time! (Click on the photos for more on each story.)
This is one of my recent favorite stories. A elderly man helping a young man tie his tie for what I presume a job interview or something of the sort. What an amazing message and act of love.
Shout out to Chicago good samaritans! This McDonald's employee was applauded nation wide for closing down his register to help a man in need eat his food. Goosebumps anyone?
This video of a 101 year old woman playing with the snow is all you need to see today to put you in a good mood.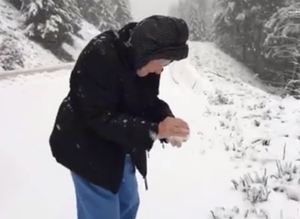 If you haven't heard, Brussels is on lock down while police hunt for wanted men throughout the city. In an effort to keep the whereabouts of task forces not known, police have asked citizens to not release photos of them on the city streets. Here is what Belgians are doing to help. I love these people. #BrusselsLockdown
Ok, I can't even deal with this little fella. Three year old, Patrick McClung, was so devastated to learn about homelessness, he decided to take it into his own hands this holiday season. Yes, you read that right…three years old.
This Syrian refugee makes food for the homeless to show his gratitude to Germany for taking him in and paying it forward by giving back to the country that helped him when he was in need. This is humanity.
Who knew little hens get cold? I sure didn't. Two women from the U.K. have been taking in retired hens and knitting miniature sweaters for them to keep them warm since they have spent their entire lives cooped up in cages. These little hens cannot stay warm or assimilate to their new weather conditions, so this is how the mother daughter duo is helping keep them cozy.
How I love this next story and there are so many reasons why! The note is a classic, however, how often do people replace missing hubcaps on strangers cars? What a great way to spread the love.
Want to read a letter that will make your eyeballs sweat? This one touches my heart. We, sisters, were and are very fortunate to have a dad that wants to spend time with us as much as possible.
Well, be sure to grab a box of tissue for this amazing new friendship and good samaritan. If this video doesn't inspire you to help the homeless when you have the opportunity to do so, I don't know what will.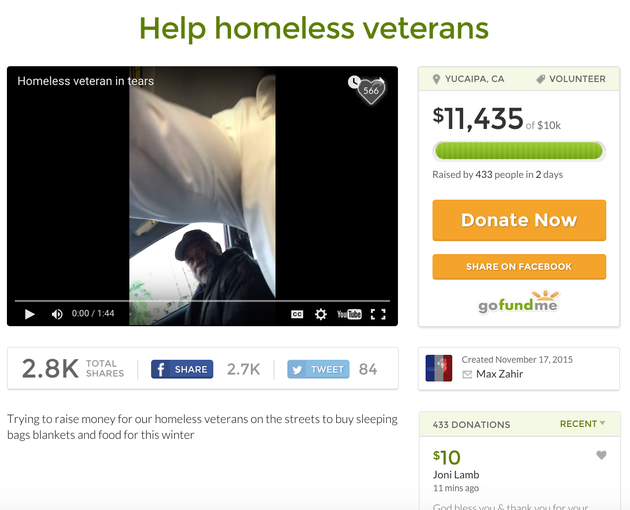 We all know Snoop Dogg loves the MaryJane, but something you may not know about him, is that he also loves giving back to the community. Just last week he was out in California giving out turkeys AND hugs to those in need. Hip Hop Hooray….check it out.
If you look for the negative that is what you will find, but if you open your heart and search for the positive, it'll be there. And as you can see, even with all of the horrible events happening world wide and here in Chicago, the city where we live, there are still very good, loving people in this world. Spread the love people!
Love it. Live it. Share it.