As we all know Christmas is the most magical time of the year, but Christmas in Chicago is an even more magical time of the year. There is so much to see and do, it's actually difficult to do it all in one season. On the other hand, there are some things that are not so cool, so you can totally pass those up and focus on the awesome stuff. Below is my list of the best events taking place in the city (and near by) that will for sure put you in the holiday spirit! From holiday plays to spiced wine and festival lights….I've got you covered.
Christkindlemarket at Daley Plaza – This is hands down one of my favorite places to visit during the holiday season in Chicago. I literally feel like I am teleported to a little German town that is basically cracked out on Christmas. There are little huts filled with German foods, drinks and markets to buy little gifts. Speaking of German drinks, it is a MUST that you get yourself the little boot mug with Germany's traditional warm spiced wine, Gluhwein. Holy cow, it's delicious and warms you up while braving the Chicago winter temps. Don't forget to get a Bavarian pretzel and a potato pancake to snack on. If you are into Russian Stacking Dolls, you will find a tent with the most beautiful dolls imaginable. They make for such a unique gift as well. Need a hostess gift that will be adored forever? There ya go. Here is a massive tip: do not go on a weekend evening or at lunch time. Try the off hours before or right after lunch. It's totally worth going if you go at the right time. Go at the wrong time when the rest of the city does and it very well be swamped.
Illumination Tree Lights at The Morton Arboretum – I have heard such great things about Illumination. It's the third year the arboretum has been putting on the display and it sounds like they stepped it up a big notch this season. I am told that the trees respond to your touch and voice. For a tree hugger like myself, this is a Christmas time dream come true! Here's the deal, I LOVE Christmas light displays, I consider them a holiday art installation. I went to the Lincoln Park Zoo Lights with Nicole, her little ones and The Knife last week to get my Christmas light fix…bad idea, I should have taken some xanax and a tissue along for the ride. You basically need to drink five cups of warm spiced wine (which is actually super delicious) to get rid of the sads you get as you watch insane animals pace back and forth in a frigging cage. I believe that was the last time at the zoo for me. So with that being said, I now know where to indulge in some festive lights without the sad animals and with supporting an organization whose mission is to preserve nature. Done and done.
David Sedaris' Santaland Diaries at The Wit Theater – If you want to laugh so hard you cry, buy tickets right this second to Santaland Diaries. Anyone that has read this book by Sedardis knows how hysterical it is. Toss in a gay elf that reads the story aloud and details the life of an elf and you leave with a belly ache from laughing so hard. Santa's Elf, played by Mitchel Fain, is perfection. You will literally want to put him in your pocket, take him home with you and make him your very own Elf on the Shelf. This show is fun for girl friends, couples, heck, I went with my dad! Ps. not only is the one man show a must see, so is the stage and decor. It is so Christmassy and colorful, your little head might explode with holiday happiness.
The Christmas Carol at the Goodman Theater – This adaptation of Dicken's Christmas Carol is one of my favorite productions of any show I have ever seen. The actors, the stage decor, the lighting, the special effects, everything about it is spectacular. In it's 38th year, it seems to to only get better each year. You'll laugh, you'll cry, you'll be surprised it took you this long to go and see it. Larry Yando, who plays Scrooge, is sensational! The cast and crew of this production offers up perhaps the best way to help get into the Christmas spirit, Chicago style. You'll leave feeling filled with the message and magic of the season.

Glascott's Pub on Halsted – Located in Chicago's Lincoln Park, Glascott's has some of the prettiest decorations during the holiday season. On each window hangs a massive wreath bedazzled with holiday lights and gigantic red bows. The bar itself is adorned in green and red. It's the perfect little place to belly up to on a cold winter evening after doing some shopping up and down Halsted and Armitage. Now, there is a little secret to Glascott's as well. Connected to the bar on the Webster side of the street is Athenian Room, one of my favorite restaurants in the city. It's a little Greek restaurant that has been there for ages. It's unlike any other Greek restaurant in the city, you can't even compare it to any in Greek Town. Grab a beer at the bar and head on over for a yummy and filling dinner right next door. It is mandatory that you order their Greek fries. And when you do, be sure to request that they are prepared well done and with extra sauce. You'll see what I mean when it gets in your mouth. #heaven
Christmas Around the World at the Science and Industry Museum – If you have even the slightest obsession with Christmas Trees and culture, then this event is a must see. When we were kids our dad would take us to every museum in the city a couple times a year to keep us in the know with the world and for us to see some really cool ass things. These decorated and culturally infused trees are definitely a go to for both children and adults. Each tree is a representation of a country and its colors and holiday decor. It is such a fun way to experience a worldly Christmas without having to leave the city. From Italy to Estonia, the museum has over 50 trees to admire and adore. Tip: Santa will be there on select Saturdays and Sundays and thru out the month there will be holiday worldly performances. Get to it!
Holiday Movies at The Music Box Theater – The Mister Project totally called this one! I asked him if he knew of any other Chicago Christmas events and sure enough he did. First of all, The Music Box Theater is unlike any other theater in the city. It's a super cool, funky little spot that still sells tickets on the cheap and has a little lounge connected to the theater. I highly suggest you check out the holiday schedule, grab some popcorn, a red wine or manhattan at the bar and enjoy some vintage Christmas films. You'll have options like Love Actually, National Lampoon's Christmas Vacation, It's a Wonderful Life and The Nutcracker. Oh and let's not forget a sing along option of White Christmas…Michelle would surely tweak out and sing the entire way through. For you movie buffs out there, get on this opportunity, it's too good to miss.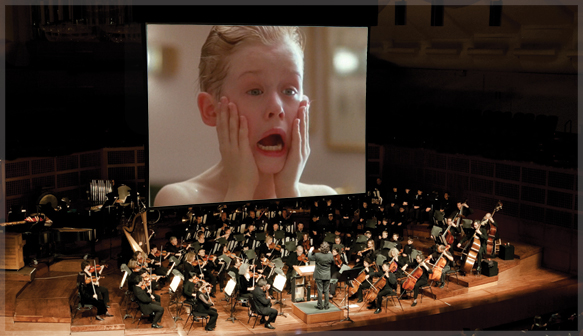 Chicago Symphony Orchestra: Home Alone – Speaking of classic Christmas films, The Chicago Symphony Orchestra will be screening Home Alone while accompanying the film with John Williams's score for the movie. Which, if you recall, is outstanding. Talk about killing two birds with one stone, a family favorite film and a world renown orchestra all in one. It is this coming weekend only, so if this is something that peaks your interest, get on it! It's going to be amazing.
Don't forget, it's also that time of year to be more giving, especially to those in need. This holiday season consider donating coats or jackets to Chicago's Button and Zipper. They will gladly take them off your hands and give them to someone who can truly use it to stay warm this winter.
If anyone of you do not know this scene below, I feel sorry for you and insist that you see Christmas Vacation immediately! #BendOverAndIllShowYou
Love it. Live it. Share it.