Hollywood was in all its glory last night dripping in jewels, sipping champagne and just being straight up super rich and fancy. That's right! It's awards season TSPeeps! I frigging love this time of the year. I do what I can to see all of the movies, then when the big night comes, I sit and cozy up and watch hours of beautiful people walking the red carpet and accepting awards. Of course, I love the opening monologue, acceptance speeches and seeing who has had the most botox and fillers (Jada Pinkett Smith wins for that category), but my most favorite part of the evening is the fashion of course. This year's 73rd Golden Globes definitely brought out some fabulous colors, textures, jewelry and beauty galore. Let's take a look at my list of the best and worst dressed Golden Globe attendees.
Best Dressed
Julianne Moore in Tom Ford. Let's be honest, she is flawless. She has mastered the art of metallic hues to coexist stunningly with her ginger locks. From the choker to the sleeves down, this dress fits her like a glove. Well done. A+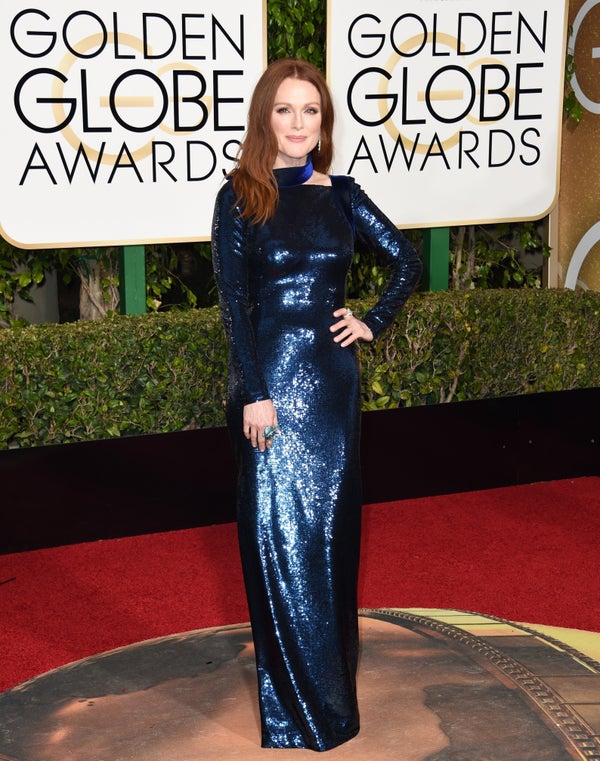 Emilia Clarke in Valentino. Oh hello beautiful earth angel. Emilia has exquisite facial features so she can basically wear a potato sack and still rock the red carpet. However, the dress is a winner! The cut, detail and cape have me swooning! I love everything about it. A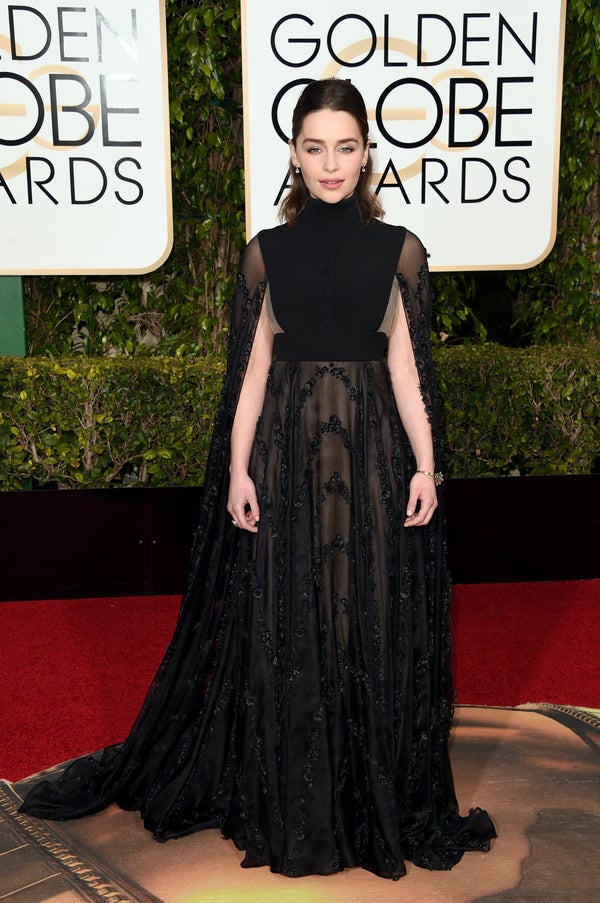 Rosie Huntington-Whiteley in Atelier Versace. Ugh, the beauty! Rosie has it all going on. She is basically a perfect specimen and proves it by throwing on this bedazzled creation. Not just anyone can wear this piece of art and she killed it. I love the fact that she wore little to no jewels…ohhhh besides that MASSIVE rock on her wedding finger because she is indeed engaged to Jason Statham. Their kids are going to be so ugly…NOT! A+
Melissa McCarthy in her own design. Oh hello there beautiful lady! Melissa rocked the red carpet last night with this self designed dress, wavy hair, perfect make up and accessories. She looks like she trimmed up a bit and I think she looks absolutely beautiful, even moving into the sexy category. Good work funny lady, keep it up! A
Jaimie Alexander in Genny. Something about this geometric, funky number has got me totally tuned in. The texture and the weight of the fabric looks rich and the cut suits Jaimie's svelte frame perfectly. The green pop of the earrings and hair pulled back, pull this ensemble together quite nicely. I love it. B++
Kirsten Dunst in Valentino. I just can't. This beauty has the best boobs in the business and I love that she chose this super sexy, velvet gown to show her ladies off. It's as if this dress was created just for them. Homegirl is HOT HOT HOT! And although super sexy, she has almost a demure look to her which ties the entire ensemble together perfectly. #motorboatheaven A+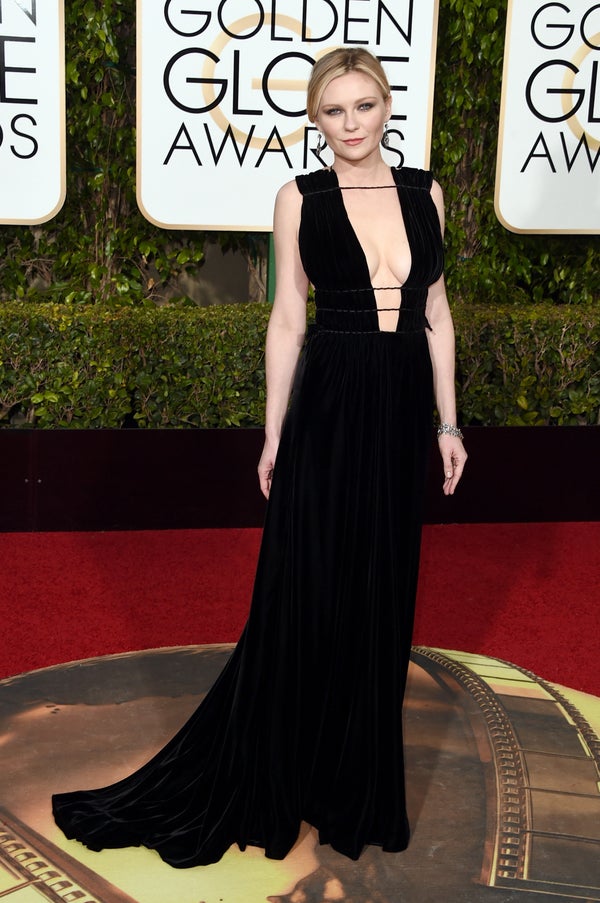 Queen Latifah in amazingness. The Queen looked brilliantly stunning last night in this teal gown. This girl has come a long way from her early 90's rapping days. She is definitely Hollywood royalty and she does the job well. Side note: I once hung out with The Queen at her home in Beverly Hills. I know it sounds crazy, but it's totally true. She's a friend of a friend and is one of the nicest people I have ever met. Grounded, friendly and beautiful inside/out. Ps. She LOVED The Mister Project. Carried him around the pool in her arms like a baby while she asked him about himself. Not kidding. Love you Dana! A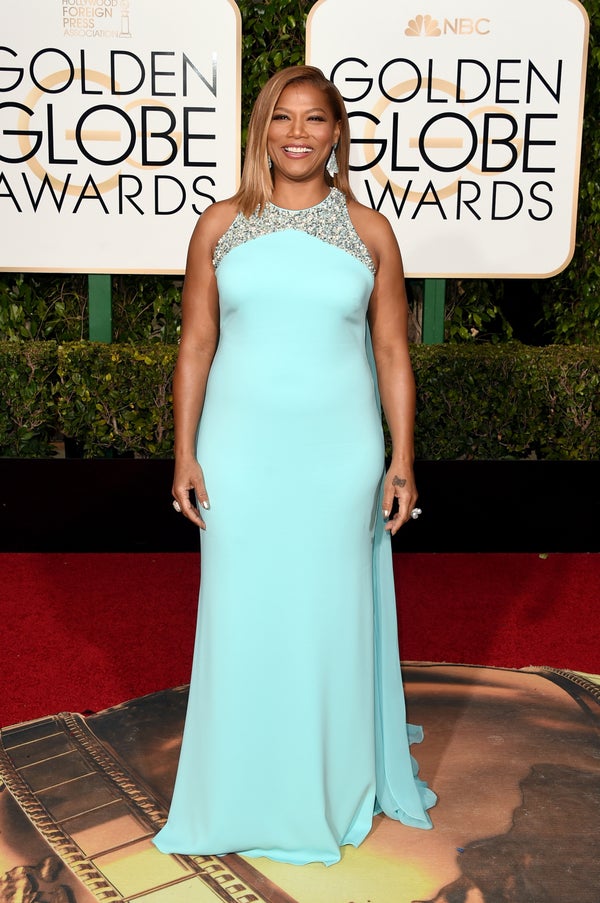 Malin Akerman in Reem Acra. This bejeweled, peplum number was made for Malin. I kind of can't get over the perfection she brought to the red carpet. From the hair to the super simple accessories, the beautiful actress was a total head turner. This look is the perfect combination of total femininity and class. It's a dress made for a starlet. A++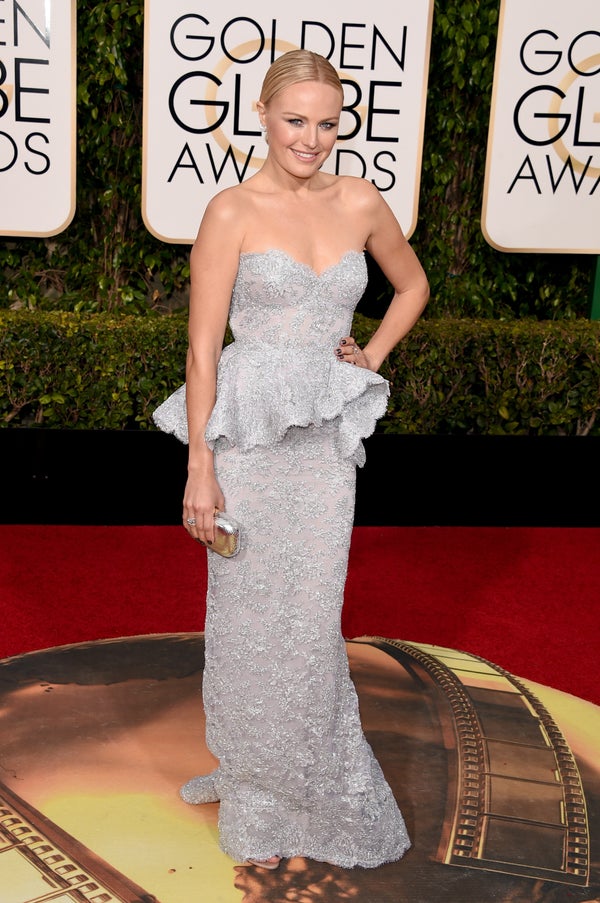 Worst Dressed
Cate Blanchett in Givenchy. Oh for crying out loud, Cate! What the hell is going on here? Typically I love when Cate captivates us on the carpet with a more daring look, but this looks like something from my nightmares. I actually hate it. And I hate that she's wearing a black clutch with it. She could have at least gone with a sliver clutch to ease the pain. This is a huge eyesore.  Please step it up for the Oscars Cate, please! D
Brie Larson in custom Calvin Klein. Custom made? Really? Beautiful Brie may have won for best actress, but sadly, in my book, she lost for best look. This dress is wearing her more than she is wearing the dress. I can see where they wanted to go with it: show of her amazing, washboard abs and shine! But not so much. This dress looks cheap and ill fitting. Plus, I am not the hugest fan of cut outs…imagine this gown with out any. Much different story. C-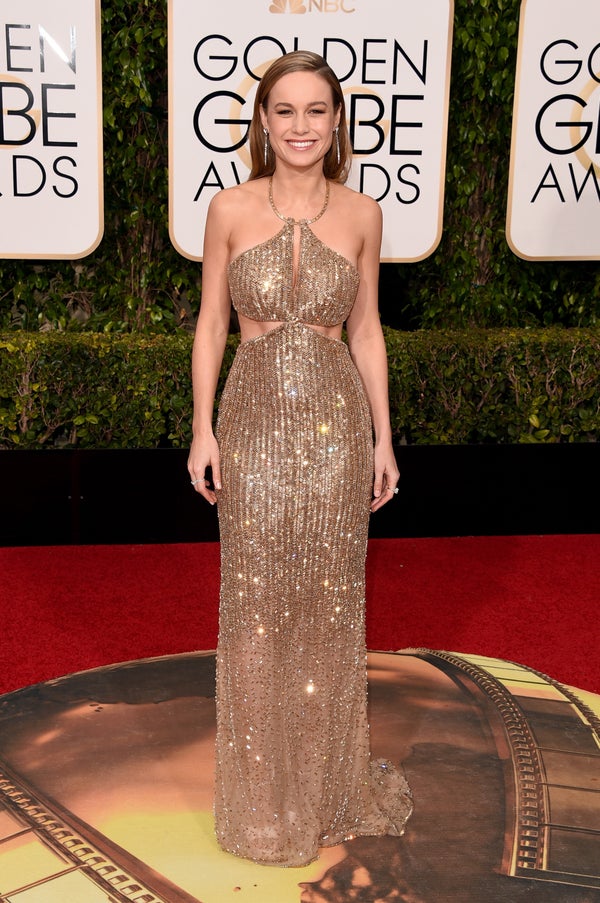 Rooney Mara in Alexander McQueen. Oh, is Mara on the red carpet? I don't see her anywhere. I think she actually has the super power of going invisible because when she put this thing on she literally disappeared from sight. This looks like a Max Mara dress from TJ Maxx. NO. F
Zendaya in Marchesa. Do me a favor. For fun, scroll down suuuuper slowly from Zendaya's pretty little face down to the red carpet. It's like a frigging optical illusion, am I right?! It's the like the never ending story of the ugly dress. I feel like she is 6 feet tall in the Marchesa mishap. Is she? D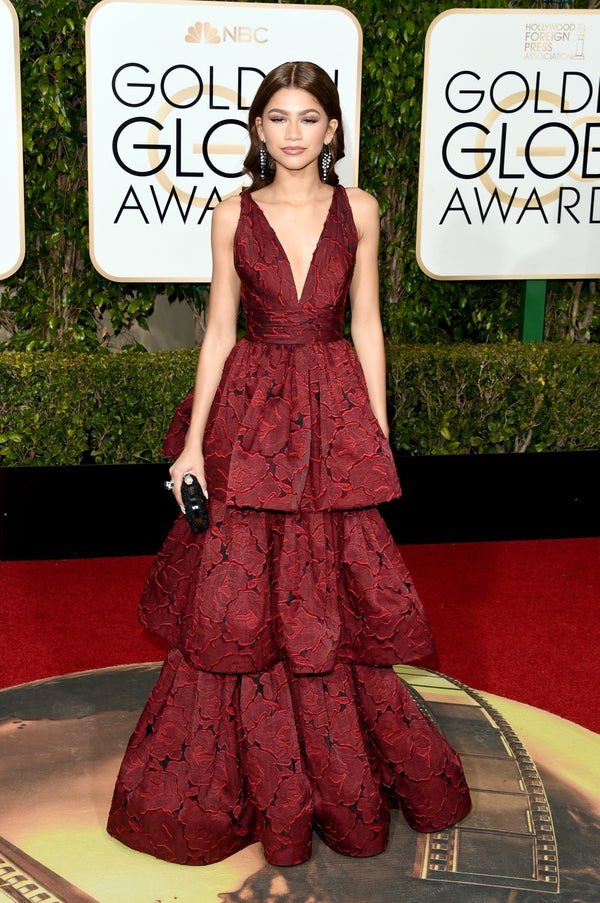 Jane Fonda in Yves Saint Laurent Couture. I am currently on a smoothie diet and this dress has me all sorts of thinking about vanilla frosted cupcakes. I want to eat Jane's dress. Now, besides the awful, massive collar, the color looks exquisite on Ms. Fonda and she looks beautiful as always. I LOVE her clutch. Well done there. Let's have a better look for the Oscars, okay Jane? Thanks! C+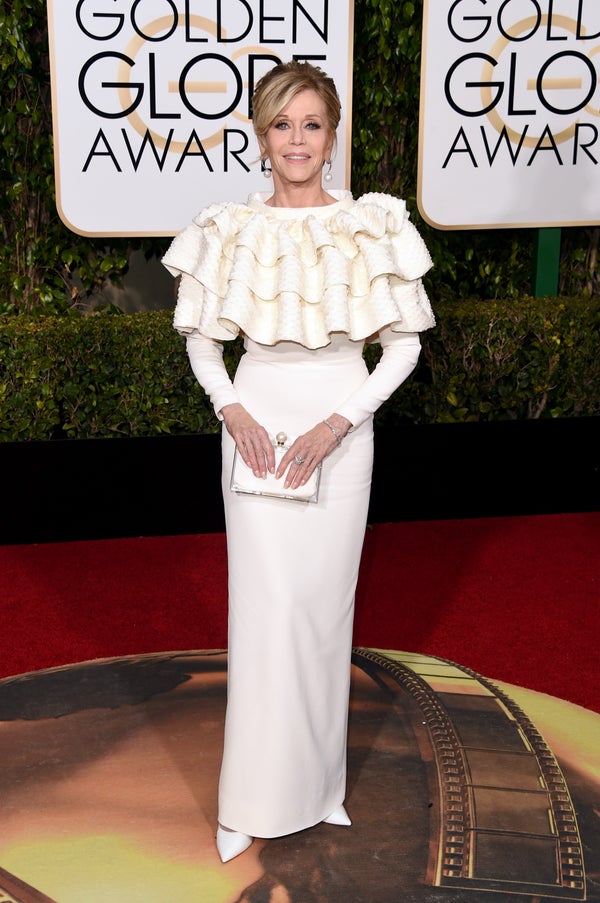 Taylor Schilling in custom Thakoon. BAH! Another custom made ill fitting frock. This bums me out extra because I have a somewhat unhealthy obsession with black clothing items that sparkle. Also, I love when a lady opts for a suit for major award ceremonies. When done correctly, it's daring and super sexy. Sadly, I feel this look made her look top heavy. I would have loved to have seen something perhaps more fitting and high waisted. She should be thrown back in the slammer for this one. C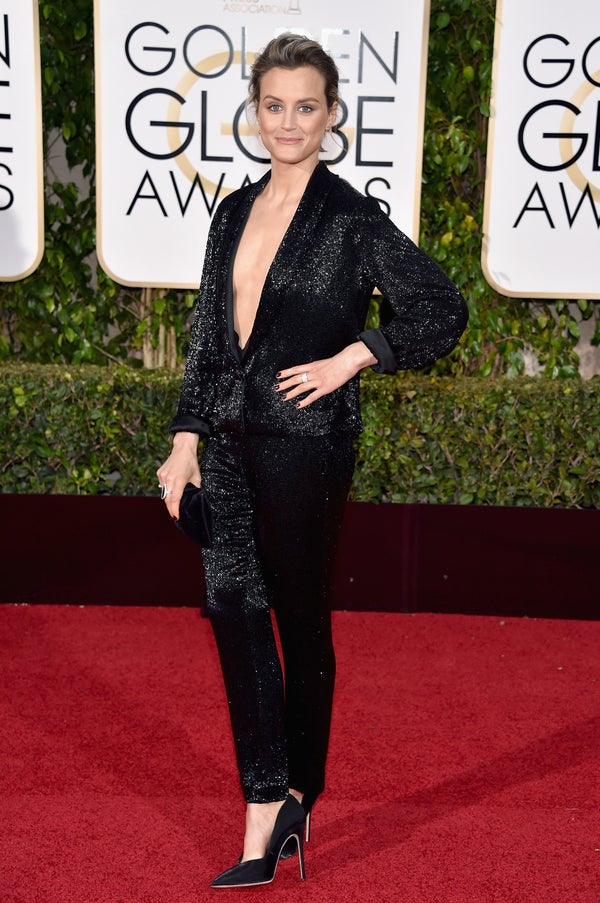 Felicity Hoffman in Lorena Sarbu. WHOA! Is that Felicity Hoffman at the Golden Globes or at the opening ceremonies for The Hunger Games! Nope. Not at all a fan. Hoffman herself is looking fit and fierce, but this dress is for the birds. Honestly, I just hate it. The color, cut…every single element about it. I can't find one thing I like, not even the fact that it shimmers, that almost makes it even worse. However, can we find out what her workout and diet are up to these days? F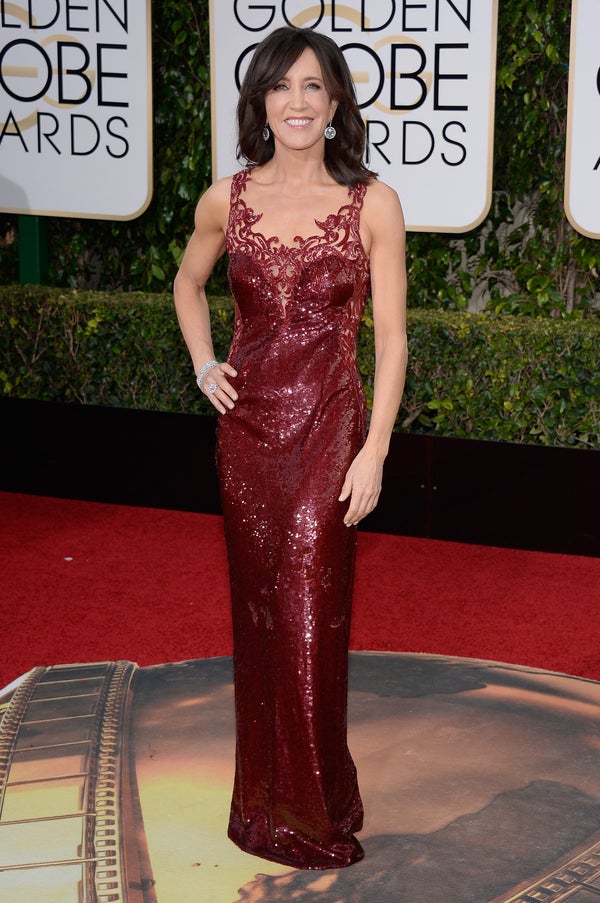 Ok ladies and gays, now for the moment we have all been waiting for! The Leonardo DeCaprio collage!!! It's about damn time that sexy b$#*@ won an award after all these years of hard work and being gorgeous. I mean, let's be honest here, regardless of his "dad body" he is just like a fine wine – he just keeps getting better and better with age. Whether he is giving us the sads and cries on camera or is sporting a man bun and a gnarly beard, this dude is freaking hot! Congratulations Leo! Cannot wait to see you do your thang at the Oscars!!! (I WILL CRY.)
Alright TSPeeps, did you like or hate my picks? Speak up and let me know who you loved and who you loathed on the red carpet last night. Or you can just sit at your desk and stare into Leo's eyes for an hour or so…that's what I'm going to do until my next yoga class. See ya at the Oscars! Peace!
Love it. Live it. Share it.