This past Monday celebrities flooded the red carpet for this year's annual costume/fashion show, the Met Gala. If you know anything about this event, you know that some of the most fabulous and some of the most hideous ensembles come to life and fill your newsfeed for days. For good reason too! Some women decide to wear the most bad ass dresses and wow the hell out of the universe. And then there are the other women who choose (keyword, choose) to wear the most godawful pieces known to man. This year's theme was Manus x Machina: Fashion in an Age of Technology. It's an interesting theme, not especially mind blowing, but I would have expected a plethora of incredible ideas. Unfortunately, I think there were more bad than good. And then there were the butthurt. You know, the ones where when you see them, you clench your butt because it's so shocking and it hurts your butt to even look at them with your eyes. That's actually how I rated the outfits – good, bad, and butthurt. So without further ado and in no particular order, let's have a look at the good, the bad and the wtf were they thinking fashion statements of 2016's Met Gala. #prayers
Let's start with the best meme of the show.
Beyonce in Givenchy – Whoever created this meme, wins! It is most definitely a message to that Becky lady. Basically, Beyonce is going to find you, kill you and Buffalo Bill your ass and wear your skin at night time while sleeping next to Jay Z. Sweet dreams, Becky.
Katy Perry in Prada, Butthurt – Ok I get it, Katy Perry is trying to be edgy and unique…but it's actually terrifying. How about this? Lose the bleached out eyebrows. No matter what the theme, that is the worst decision anyone can ever make. Somehow it makes this ensemble look even worse than it already does.
Lady Gaga in Versace, Bad – Whoa! Is she staring right at you like she is me?! Lady Gaga is totally channeling her inner Cher and Gem. Now, the Versace jacket is pretty unreal. It actually looks like something from the Matrix, which is pretty freaking cool. The bodysuit, that's kind of badass too. You see, my issues here lies with Lady Gaga's hair. The hair can make or break an outfit and in this case, it broke it, bad. This bleached out wavy bouffant has this ensemble all wrong. With a different do – this idea could have been pretty mind blowing given the theme. Maybe next time, Gaga.
Kate Bosworth, Bad – Frozen in time people. Frozen in time. That is all.
Cindy Crawford in Balmain, Good – Kim K should have left the job of wearing an incredibly similar Balmain silver metallic dress up to Cindy Crawford. Impeccable.
Madonna in Givenchy, Butthurt – Oh sweet Jesus (palm smacks forehead). The princess from The Never Ending Story called, she wants her ugly head piece back. I don't even understand what is happening here. Her boobs look great – but it scares me when it looks like jumper cables are hooked up to her nipples and they are about to get zapped right off. Who's idea was this disaster?! There is actually zero about this outfit that works. She is honestly the worst dresser eveeeeeer. Enough is enough, Madonna. It's not working anymore.
Demi Lovato, Bad – It's weird because a part of me wants to love this dress. I have a strong inclination it's because the majority of this piece is silver and it sparkles…my biggest weakness. It looks beautiful on her, but the contrast between the patterns is giving me a bout of anxiety. However, her makeup and hair are killing it.
Zendaya in Michael Kors, Good – This is like 70's disco glam galore. I LOVE everything about this dress, it fits her like a glove. I'm also digging her gold, chunky rings. Now, the hair…that's a bit of a different story. It's a hard cut to get used to, but I suppose she is pulling it off well given the nature of the cut. Kind of like someone took a large bowl, placed it on her head and cut around it. Dumb and Dumber stye. Michelle had this cut once. Once as a youngin and again as a new mom. She wasn't so thrilled about it…either time.
FKA Twigs, Butthurt – Ummmm you guys, I literally just sat here and had a staring contest with her. She won. Try it.
Taylor Swift, Butthurt – Oh Taylor, girl. I am not feeling this look at all. It looks like she bought this dress from Contempo and someone threw a bottle of bleach at her head. From the hair to the dress, it's all wrong. It's time to change the hair color. Like, the moment they dyed it this color, it was time to change it back. It was all fun and cool for Coachella, but it's back to real life now and this hair moment for Swift is a hair moment don't. This actually makes my butthurt.
Emily Ratajkowski in Prabal Gurung, Good – Homegirl is smoldering in Hollwood sex appeal right here. I am typically not a fan of black and white dresses, but this creation is different because it's like two different dresses from the front to the back. Super chic and creative. She wins for sexiest yet classiest look of the night.
Lala Anthony, Butthurt – There is something to be said about a woman who can pose. I learned long ago from Paris Hilton that everyone has a good side and a good pose. This, this right here, is the worst poser ever. She's over posing. Her chest and shoulder muscles must be killing her today. The pose nor the dress are flattering. It's too much. I hate the cut and I cannot imagine how much scotch tape was used to hold everything in place. #nonolala Michelle Williams, Butthurt – Ok, well I'm going to go to my bed now, crawl into fetal position and suck my thumb because this is the GD scariest thing I've seen all year. She looks like a mini possessed demon robot. Halp.
Doutzen Kroes, Good – What is there to say here. Top to bottom, bottom to top – fabulous.
Jessica Chastain in Prada, BAD – This is rated bad, because it's ugly and of all the dresses I have seen, has the least to do with technology. This reminds me of an ugly dress Chastain would wear to the Golden Globes because she has bad taste in dresses. This was an opportunity for her to step outside her comfort zone and try something fierce. I guess she was super eager to show this bad boy off. She just couldn't wait until next awards season. This dress actually pisses me off.
Sienna Miller, Good – Sienna Miller is perfection in this ensemble. Her effortless, yet show stopping look is what should be flooding the red carpet at the Met Gala. Such beautiful femininity.
Chloe Sevigny, Butthurt – And for no other reason than because she forgot to take out her GD rollers.
Gigi Hadid in Tommy Hilfiger and Zayne Malik, Good – Gigi's dress is exquisite. Not only is it incredibly unique, but it looks like it was made just for her…which it probably was. My favorite part is that you can see the bottom of her metallic body suit under her sheer dress. It's very superwoman-esque. What is not as good is her boyfriend's arm decor. I totally get what he was going for and I appreciate the effort, but it's not working. Good thing he has a cute face.
Kim and Kanye in Balmain (as usual) – Good/Butthurt. Kim looks gorgeous and I love her dress because it totally gives me the futuristic vibes. Although I am close to over Balmain because all of their creations are starting to look the same, this gets a pass. What's sad here is that Kanye thinks he looks hardcore. He looks like a giant nerd, let's be honest. Who the hell bedazzled his oversized Gap jean jacket?! Did he go to a 90's rave after the Met with his cool, blue contacts? His ripped jeans and suede boots?! Too much going on here for me to wrap my head around. Next! Side note: he has very smooth thighs.
Lauren Bush Lauren and David Lauren, Butthurt – You know, everyone is getting their panties in a bundle over Kimye, but these two are the real ones everyone should be talking about. Seriously, is that a brunette James Spader circa 1985? And what is up with the studded leather pants?! I can't. His outfit is like a freaking mullet. Business on the top, party down below! I hate how I feel when I scroll from his tux jacket down to his pants…it legitimately makes my butthurt.
James Spader, everyone. Who, by the way, was a total dreamboat in the 80's. #totalheartthrob
Saoirse Ronan, Good – Take away the butterfly and I actually love this dress. It's very vintage inspired. Plus, those feathers! This is a dress I feel Fay Dunaway would have worn back in the day.
Irina Shayk in Givenchy, Butthurt – Seriously? It's not a fancy Fourth of the July party, it's the Met Gala. This is extra disappointing, because  Irina is like a perfect specimen of beauty and this is the dress she chose to wear to one of the year's biggest events? She looks like a lost pirate from The U.S.A. Nope. #holyaeriola
Lara Stone, Good – Yaaaaaaaaaas. I freaking love this look. Probably one of my top favorites of the evening. She's giving us that old school blonde bombshell look and is doing it very, very well.  My one issue – her clutch. Black would have popped better against the silver beading. All in all though, pretty perfect.
Naomi Watts in Burberry, Good – Naomi Watts looks breathtakingly spectacular here. The dress, her pose, her hair and her smile says it all. She knows how good this look is and isn't afraid to let it show. This look is true red carpet perfection.
Tabitha Simmons, Butthurt – Oh for crying out loud! What in Sam's hell is this!? I actually hate this one. Did she time warp her way to the future? What is this? They could have at least toned down the MASSIVE shoulder pads here. Where is her sword?
Nicole Kidman in Alexander McQueen, Good – Kidman looks phenomenal in this celestial creation. The sheer cape has me kind of freaking out. I would do anything to wear that thing just once! She looks like a princess from space that has come to rule the red carpet…and she did.
Ciara in H&M, Good –  Ciara is absolutely gorgeous in this meshy dress and silver hair. Her make up compliments her dress and hair without hesitation. Whoever helped her with this looks needs a big ass raise. Throw in some side boob and this look is sexy and complete. Well done.
Solange, Good – Although it appears to me that Solange's dress has zero to do with technology, I am digging the latex thigh highs and the psychotic, yellow pleats. I mean, you have to also give a girl credit where credit's due. She kicked Jay Z's ass at last year's Met Ball in an elevator because of some ho named Becky with a good hair do and something about lemonade. I see what's she's doing here in the yellow…..well played.
Mia Wasikowska, Bad – No. I hate nothing more than an ill fitting dress and even more so when it's on the red carpet. This couldn't be a more unflattering dress. Everything about it is wrong. Who are her stylists and handlers?! Fire them all. It's Alice from Tim Burton's Alice in Wonderland for crying out loud, she could have wowed us! Most underwhelming dress of them all.
Diane von Furstenberg, Good – This is good because it's Diane von Furstenberg and she can do whatever she GD pleases. She made the wrap dress famous, so she is basically fashion royalty. Even though I feel like I am completely tripping out when I look at her head, I'm down with those crazy, neon butterflies.
Alexa Chung, Good – I LOVE everything about Alexa Chung's look. EVERYTHING. Hair, minimal jewelry, strappy heels and suit….she killed it this year. Plus, it barely looks like she has any make up on and she looks flawless. Five stars.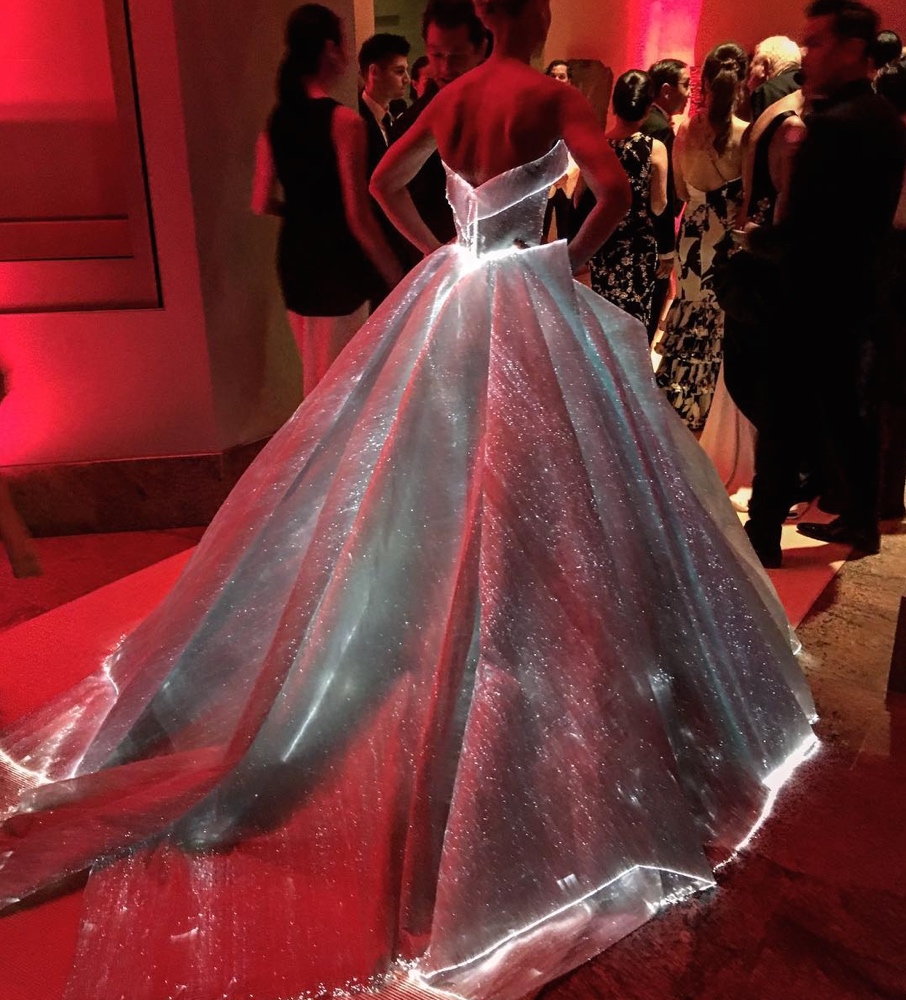 This was hands down the show stopper of the evening! Claire Danes in this lit up Zac Posen masterpiece is the essence of what the Met Gala is all about. And we can't ignore her handsome arm candy….on both sides! Stunningly brilliant. A+++ PS. Zac Posen slays in the posing department. So effortless as well
Ps. My Halloween costume was basically a combination of Katy Perry and Hailey Baldwin's ensembles.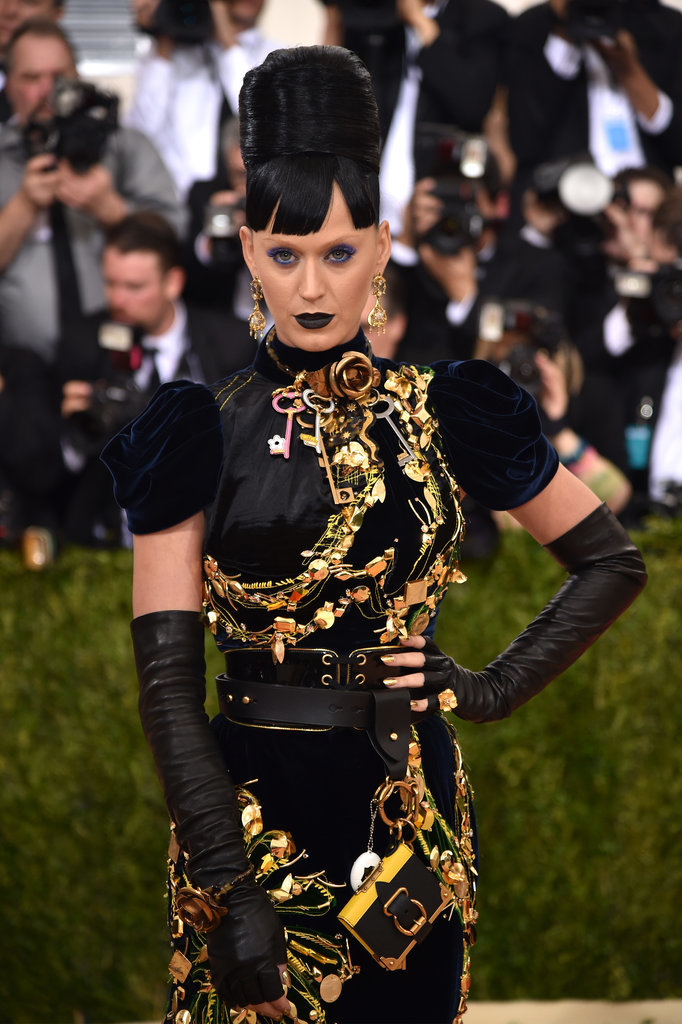 So TSPeeps, who was your best and worst dressed???
Love it. Live it. Share it.