Whether you love her, hate her or love to hate her, Kim Kardashian has taken the world by storm in recent years. And not just any world…the fashion world. I remember back in the day when Vogue's Editor in Chief, Anna Wintour, swore upside down and every which way that Kim Kardashian would never grace the cover of fashion's most prestigious magazine. Fast forward a couple years after she made that promise to the world, and there we see not only Kim Kardashian, but that guy she married as well. The fact that Vogue's Ice Queen allowed Kardashian on her cover speaks volumes. It basically means that Kim has transcended the world of us regular folk and has taken her reality star status to a level which I didn't think was possible. She has taken it to the world of couture and high fashion. She certainly has come a long way from her velour jumpsuits and oversized handbag days. You actually feel like you are tripping when you go from photos of her in 2007 to present day.
TSPeeps, believe it or not, this is Kim Kardashian gracing the red carpet circa 2006/2007. I mean…it's amazing. It is so goddamn awful it's actually mind blowing. Granted fashion during this time was pretty tragic in general, Kim kind of took it to an entirely new level of bad. I'm trying to pinpoint exactly what was wrong with her fashion back then and I seem to come up with everything is wrong with it. Everything. Besides the patterns and materials, I think I know what taps my ass the most…it's her extra large and in charge accessories. They are indeed the worst part of her style. Specifically her oversized bags and belts. Hoy shit! But then again, this is coming from someone who lives in a denim tuxedo.
I feel like this.
Omgomgomg, I am dying over these nude knee highs. Boy oh boy did she love those boots. And those belts again?! But I have to be honest, I'm guilty as charged. I'm not sure if it was the age or the year, but you better believe you would snuggle a thick belt around a tiny waist. How else does someone show off that area? Years later she will prove to find better ways. So did I. It's called tight high waisted mom jeans. They're my everything.
And here:
And for my favorite red carpet look of them all! Woweewowow. I bet you didn't even notice how big her earrings were due to her gigantic chain link necklace. The updo, the off the shoulder sweater tunic with the black leggings? This is exactly what a bad outfit in 2007 should look like.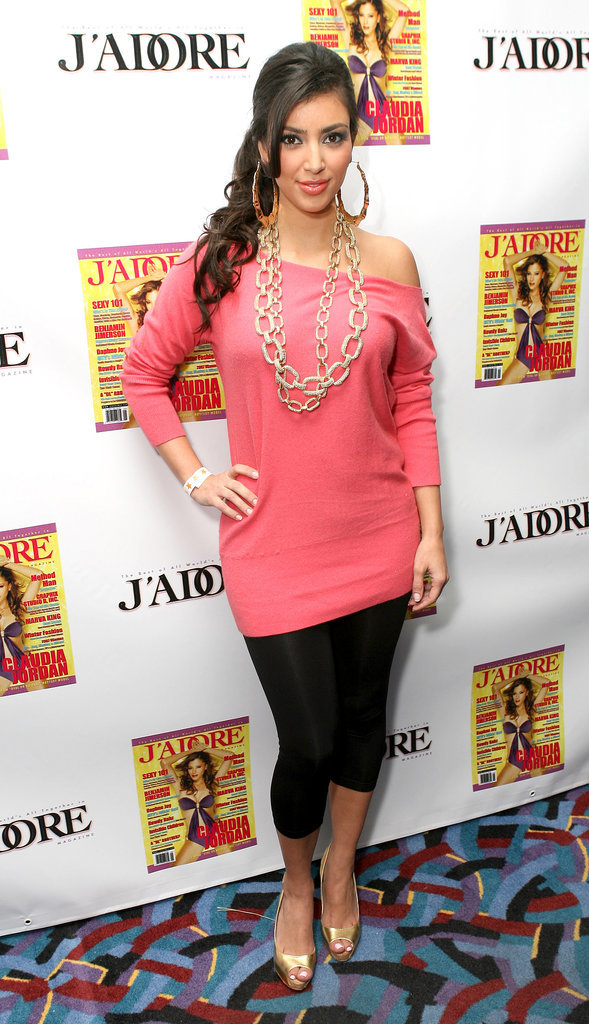 Alrigt TSPeeps, time to take a seat and buckle up Because you are about to see the most amazing transition of fashion to ever take place. The woman above is the same woman below. And as you can see, she has become a master on the red carpet. Yes, I will say it loud and clear! I think Kim K is absolutely stunning. I am not afraid or ashamed to show love for a beautiful woman who embraces some serious curves and proves that you don't have to be 6ft and 120 pounds with mile long legs to be considered pretty. And yeah, I know, having millions of dollars will completely help your cause. So guess what, she does and she is freaking killing it on the red carpet. She has proven she has the ability, both financially and looks wise, to pull off more than one look. Say, like Jennifer Aniston. You know I'm right. Kim can be demure, sexy, racy, old Hollywood, sleek, futuristic, maternal, you name it. She is haute couture.
Now I'm not in love with everything she is doing these days, for instance, her April 2014 Vogue cover.
I'll tell you why. If I wanted to see a GD prom photo, I would have stolen my cousin's senior yearbook. What is this crap? Want to know what pisses me off the most? That pose. Who's freaking idea was that? Have they gotten fired yet?  After promising to never give Kim the cover, Anna Wintour agreed that this was how she was going to break her promise to the world of fashion? Why not put Kim in a one of a kind Alexander McQueen and prove to the universe that she could handle high fashion? And why not by herself? Show the haters that she is Vogue worthy. Throwing Kanye in on this cover shoot was the worst idea…..ever. Maybe….maybe if he wasn't such a total douchebag I would consider him still present yet in a different pose of course. Not this lame ass pose that's for certain.
Let's just all take a moment to reflect on the Ghost of Kim's Street Style Past and the Ghost of Kim's Street Style Present. I'm actually not certain I've seen her wear flip flips since this photo on the left was taken. To be fair, owning a Juicy Couture velour jumpsuit was a rite of passage for many girls back in 2005. Mine was baby pink.
I am all about the choker. It's maybe the one fashion statement from the 1990's I am ecstatic to see again. Here we can see that home girl is bringing the choker back big time. There is some legit inspiration happening here. Whether it's a thicker statement piece or something more subtle, the choker can totally complete a look. If you're looking to add one to your wardrobe, here you go. #bringbackthecrimper
This is a woman who knows how to dress while pregnant. Granted I've never been pregnant, so you can scream at me through your computers and tell my I'm an asshole for comparing a regular pregnant person to Kim Kardashian, but if you just take that Xanax already and chill out, I think we may find an important maternity fashion lesson here. That lesson, is solid colors. It's stunning and so feminine…yet still sexy. Also, I love how everything she wore while pregnant embraced her beautiful baby bump. With the exception of her shoes, she looks lovely and comfortable. Which I would assume is of utmost importance while preggers.
Ok ladies and gents, let's hear it. What do you think of the evolution of Kim Kardashian? And more importantly, will you be wearing a choker this season?
Love it. Live it. Share it.